During one of our school devotions in kindergarten (or maybe 1st grade?), Miss Loescher covered Matthew 7:7-11. My childhood brain interpreted the lesson as "I can get anything if I just ask for it!" To test this out, I went home and asked my parents if we could get a cat. They immediately replied, "Yes." I was stunned. It worked! How far would this go? "Can we get two cats?" "Yes." WOW! It turns out they had already been talking about this so I just had good timing, but at the time I was pretty amazed at how applicable that particular Bible devotion was to my life.
At the pound, Rachel and I each got to pick out a cat. After we had picked them out, we were told that we had picked two cats from the same litter. Rachel named hers Slinky and I named mine Buttercup. I know Rachel's was named after the toy, but I don't know how I came up with Buttercup. I would like to think it was a Princess Bride reference, but that movie hadn't come out yet and I hadn't read the book.
Those cats lived to be pretty old. I was in college before either one of them died. That's pretty amazing considering how much time they spent out in the woods hunting and being hunted.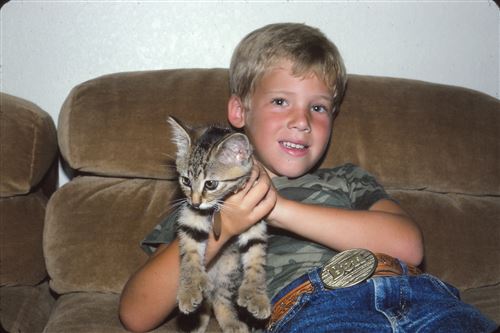 Also, that's an awesome belt buckle.