By this point you've seen all the stories about the Pacific Northwest heat wave that is finishing up, but I wanted to record some of it here for the future.
It ramped up on Friday and hammered us Saturday, Sunday and Monday. Cliff Mass had lots of great blog posts, but I'll copy a bit from his June 25 post to explain what led to our heat wave:
Ingredient One: An unusually strong area of high pressure aloft over our region (known as an upper-level ridge), associated with sinking air and unusually warm temperatures.

At the surface, this feature is associated with high pressure to the east of the Cascade crest, which tends to produce weak offshore (easterly) flow. Such easterly flow keeps the cooling influence of the Pacific Ocean away…

Ingredient Two: An Approaching Trough of Low Pressure That Creates Strong Easterly/Downslope Flow over the Western Slopes of the Cascades…

The air will start off warm, with origins from the desert southwest, but will warm further as it descends the Cascades into western Washington. Why warm more? Because the air will be compressed as it descends into western Washington.

https://cliffmass.blogspot.com/2021/06/the-reason-for-extreme-warmth-on-monday.html
To put this in context, Seattle has only had three days over 100 degrees in the past 100 years. Most of the daily records for this time of year are around 90. Any day over 80 gets people talking about how hot it is and only 44% of people have air conditioning.
The old all-time record for heat in Seattle was 103. Seattle broke it's record on Sunday and then immediately broke it again on Monday, finally topping out at 108!
That high of 108 in Seattle means that Seattle has now been hotter than cities like Miami, Atlanta, Washington DC, Indianapolis, Orlando, or Chicago!
Portland hit 116 and in terms of the ~50 biggest cities in the country, that is third on the list behind only Phoenix (126) and Las Vegas (117).
The previous maximum low temperature was in the low 70s, but Seattle never got below 80 on Saturday night and spent every minute of Monday at 80 degrees or above!
The eastern side of the state had two places hit 118, tying the record.
Forks hit 110 which is 45 degrees over their normal temperature for this time of year!
The cool down on Monday evening was incredible as well. It went from ~110 to under 70 in less than 12 hours. Forks recorded a 28 degree drop in one hour!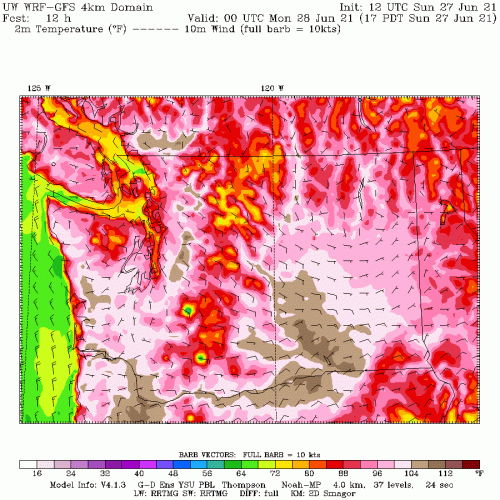 Here in Woodinville, it's hard to get an exact, calibrated measurement but based on the official sensors closest to us, I'm confident that we hit at least 108 or 109. The city about 2 miles to the west (Bothell) of us recorded 110 and the city about 6 miles west of us (Lake Forest Park) hit 111. We were very thankful for our air conditioning and it did a good job keeping up, topping out at 80 degrees on Monday before pulling it back down to 76 where we have it set.
Every few hours over the weekend, I went out to read the kWh usage off my electric meter. My Thermostat (Ecobee) records the usage per second and I store all that info in a database. So I was able to combine all that info together and build up a little model to estimate how much it costs when my air conditioner is running. It comes out to around $0.30/hour. (It's about $0.08/hour with no air conditioner.) When the temp is in the mid 80s, the AC will kick on around noon or 1 and run until 10 or 11 at night. On a day like that we'd spend around $3 to have the AC on. I don't think that's going to change anything about how I use it, but it's something I've always wondered about!
Tuesday was "only" around 90 and the rest of the week will be in the low 80s. That's still above normal but I don't think there will be a lot of complaints.