We've had a lot of smoke this year, largely due to the Bolt Creek Fire which is burning about 30 miles east of here. Whenever the winds are easterly, we get inundated with bad air quality. When someone asked "Has it been smokier this year?" I got to wondering how you would quantify that. To the data we go!
I run the studio711.com/air website which is a simple view of the air quality right around our house. When Elijah says "Is the air ok outside for me to play?" I can quickly open my phone and see. It pulls data from about 10 different sensors in our area (links for the detailed data are at the bottom of the page.) I've been running that since the summer of 2018 so that's as far back as this post will cover. Here are some stats:
The smokiest day we ever had was September 15, 2020 when we hit 274 ug/m3 which is into the "Hazardous" range of the scale (the worst category.)
If we look at total days where we hit the "Unhealthy" category, 2022 has had the most (12 days) followed by 10 days in 2018 and 9 days in 2020. Dropping down to "Unhealthy for sensitive groups" gives the same ordering.
Looking at Unhealthy days by month, October 2022 ranks third on the list behind August 2018 and September 2020. And since we're only about halfway into October, we could break that record this month. So far two thirds of our October days have had Unhealthy air quality. But the hope is that as things get cooler and wetter, the smoke should die down.
Looking at it in those terms, this has been a bad year, but looking at the year as a whole, we've had it rather good. We went very deep into the summer before we hit wildfire season. The Washington Smoke Blog has a good post about that showing that our total particle count this year is less than it was in 2020.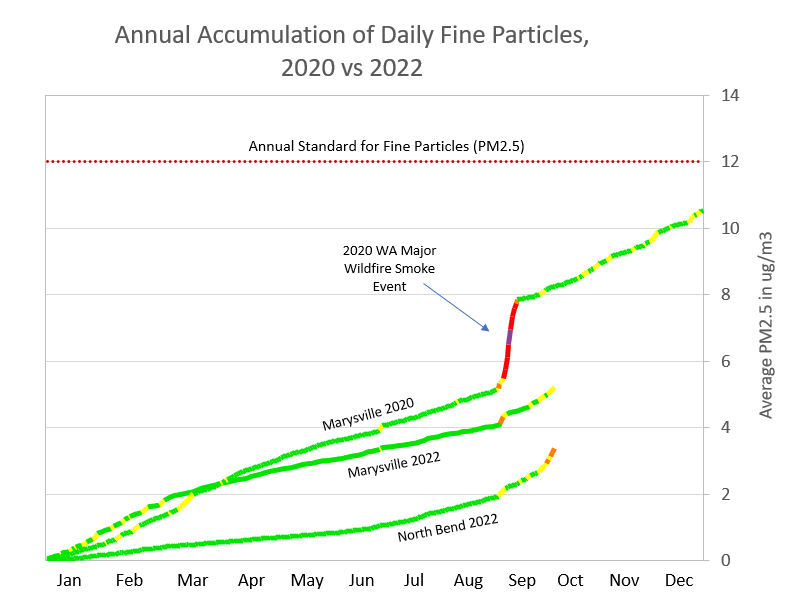 What's going on? Why all the smoke? I won't repeat the entire post, but if you're interested, read Cliff Mass's excellent post on what a "normal amount of smoke" is for this region. It is well-summarized by this chart showing the number of protected acres burned by year in Oregon.

More fires have returned to the area, but these are healthy for the land and still very different from what "normal" was before we were trying to suppress every fire. He concludes his post with this: "wildfire is a natural element of Northwest ecology and meteorology and that the 50-year period of suppressed wildfire and smoke are anomalies from the natural state of the region."
We wait all winter for dry, warm weather and when it finally comes, it's easy to be frustrated by the smoke. Thankfully, modern HVAC systems do a good job at protecting us during these periods even if it does mean that we need to carefully monitor the amount of time we spend outside.