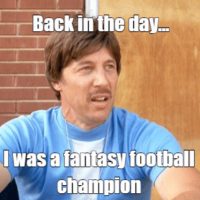 I started the Studio711 fantasy football league back in 2007, but I'm closing the league. We won't be playing this year. It sucks up a lot of my time to write these posts, make sure the league and rosters are full, handle my own team, etc, and while I could probably get by with less effort, I don't want to do it halfway. It has been a lot of fun over the years, but lately it has felt like more of a drag, and honestly, I didn't even watch every Seahawks game last year, much less keep up with all the NFL news.
Here's one last post full of stats summarizing the years from 2007-2021 (minus 2020 when we took a COVID break.)
A total of 15 different people participated in the league over the 14 years of the league. Luke, Tim and I were the only people to play in it for all of those years, but Andy and Dad were in 13 of them.
I had the most playoff appearances (12 time, 85% of the seasons) but Tyler had a 100% appearance rate over his three seasons.
Micah dominated our league for one year with an 85% win percentage but he ended up losing the championship. Of teams that played at least 3 seasons, the top three win percentages are Tyler (62.8%), Logan (62.6%), and me (59.7%.)
Logan made the most moves per season (32.5) and Chelsea made the least (6).
Logan averaged the most points per season (1745 over 11 seasons) and Ed averaged the least (1436 over 3 seasons).
Thank you to everyone who participated over the years!