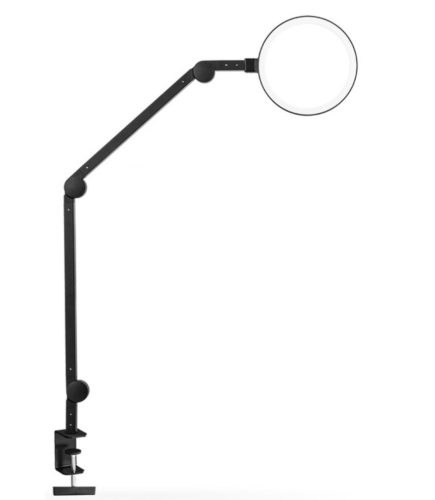 I spend a lot of time in virtual meetings from home. During the day, I usually have reasonably good light coming through the window next to me, but when it's darker outside (or when it is so bright that I have to close the window shade), my video doesn't look great. Does it really matter? No, but I like to have good quality audio and video.
It took me a while to find a light that I wanted to buy. These were my criteria:
Ability to adjust the color temperature – during the day I have daylight coming in and at night I have warm white bulbs. I didn't know it would look to have different light colors at the same time.
Ability to adjust light brightness
Ability to work well whether my desk is in sitting or standing mode.
I ended up with the Lume Cube Edge LED Desk Light (Amazon referral link: https://amzn.to/3ZZF1js) It clips onto my desk so it's always in the same place whether I'm sitting or standing, and it has adjustable brightness and color temperature. The arm is easy to move around to work either as a desk light or to light up my face for video. The light is also diffused pretty well so I don't get a lot of shiny spots on my face. Below is a before and after comparison. Not only am I more evenly lit with the new light, but the background blurring algorithm has a lot easier time identifying the edges of my head.