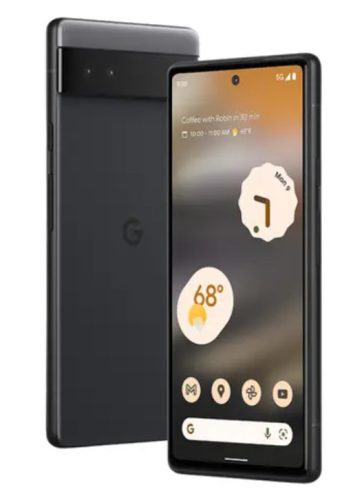 After buying flagship phones, Tyla and I tried out a midrange phone last time: the Pixel 4a. It has been stellar! Other than a lack of wireless charging, I can't think of anything I miss from the flagship phones. Our batteries still last a full day, and they don't feel too sluggish.
We were happy enough with it that we went for another Pixel: the 6a. This phone has been out since last summer, but when I saw the 6a's were selling for only $299, it was hard to pass up!
It's hard to give much of a review for a phone that I just unboxed, but I can say that the transfer process was nice. When the new phone booted up, there was a point where I could connect to the old phone via USB and suck over all the content. Not only did it bring my list of apps, but for many of the apps I didn't even have to log in again on the new phone! We also use Microsoft Launcher so everything works very much like it did before the upgrade. Connecting the phones to the Tesla and the truck was a breeze and went much quicker than with our old phones. I had been having trouble getting Android Auto to work in the truck so it was nice to see it fire up much faster than it did before.
Unfortunately switching our SIM cards to the new devices was not easy. Xfinity Mobile is typically easy to work with. Most things are done through an app or the website, but for some reason, the "replace your device" workflow was not accepting our new phones. It took a total of two hours on the phone to get both phones upgraded.
I was tempted to wait for the Pixel 8 and Pixel 7a to launch this summer, but those would be sold at full price again and getting two fantastic phones for a total of $598+tax was too hard to pass up. After experiencing our 4a's, I'm fully onboard with this mid-range phone idea. Not only do they work great for years, but I feel less bad about upgrading since they were more affordable.
Here's an updated list of my cell phone device history. If we've come this far in 22 years, imagine what the next couple of decades will look like!