For Christmas, my father-in-law gave me the 120 degree MC Etcher diamond drag engraver bit from Carbide 3D. It fits into my CNC router but is used without the router powered on. The tip is spring loaded so that it will have constant pressure with the surface as it gets dragged along. You can drag engrave many different materials so on a trip to Home Depot, I randomly picked out a couple tiles.
My first attempt was making a sign for the reloading bench that my father-in-law was building. I drew up a design with a herringbone background not knowing if it would work. The sound is a bit like nails on a chalkboard, but it worked great! I ended up going over parts of the design multiple times to get a more defined line.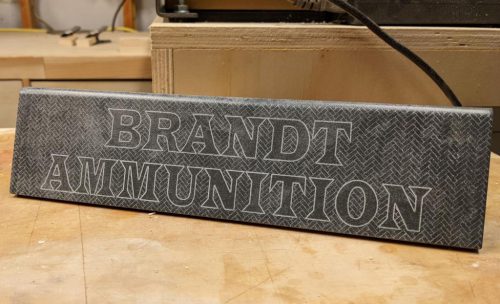 Later I also made a plaque for the garden bench that I posted about before.
I'm looking forward to trying some other materials too. I think a smooth granite tile could make really nice award plaque and some acrylic could be neat with edge lighting. The possibilities are endless and it's a fun tool to have at my disposal.