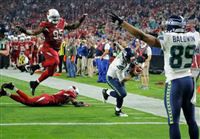 The season is over and Austin reigns supreme! Congratulations! This final week was a lackluster performance from our entire league as we set the lowest total score of the season. Neither Jim or Austin ponied up for the pool so Tim and I battled it out for third place and the money. I use the term "battle" loosely. Tim won the money as I had three players combine for less than one total point. Yay.
The Seahawks had another good defensive game and finally coupled it with a great offensive game. That was refreshing to see. Early in the game the announcers said that Arizona was going to make the Seahawks beat them with the pass since Wilson hasn't done a lot of that. Well mission accomplished sir. Good job. If the Seahawks can get revenge against the Rams, they'll have home field advantage throughout the playoffs. That's a huge turnaround from earlier in the season when I was wondering if they'd even make the playoffs.
Now on to the weekly awards.
Highest Team Score

This Week: Luke had 138.38
Season: In week 14, Austin had 187.41
All-Time: In 2013, Tim had 195.50

Lowest Team Score

This Week: Ben had 59.40
Season: In Week 3, Luke had 55.04
All-Time: In 2011, Luke had 47.01

Biggest Blowout

This Week: Tim beat me by 44.50
Season: In week 8, Austin beat Dad by 103.48
All-Time: In 2010, Luke beat Andy by 113.02

Closest Win

This Week:  Andy beat Dad by 7.68
Season: In Week 2, Austin beat Ben by 1.7
All-Time: In 2012, Jim beat Ben by 0.12

Highest Scoring Player

This Week: Russell Wilson had 40.36 for Andy.
Season: In Week 8, Ben Roethlisberger had 56.78 for Dad
All-Time: In 2013, Peyton Manning scored 60.28 for Andy

Longest Winning Streaks:

Active:  Austin has a 6 game winning streak
Season: Ben and Austin had a 6 game winning streaks
All-Time: In 2011, Micah had an 8 game winning streak

Longest Losing Streaks:

Season: Andy had a 5 game losing streak
All-Time: In 2011, Kyle had a 14 game losing streak
And a couple final statistical notes about the year:
Austin had a stellar season but he still didn't have as many points per game as Andy had last year (135.61 to 132.91.) But poor Andy has not been able to back up that year. This year he had the lowest average in our league (101.42.) The record low was Kyle in 2011 with 98.26.
Not only did Austin generate the most points, but he had the most points from players that he drafted! I've always felt that with only 8 players in our league, the draft doesn't matter much because you can change things around easily. Maybe that's not true! However, this year I broke the league record for most points from post-draft acquisitions. It didn't end up being a successful strategy though.
Thanks for a great year everyone! We had no problem with deadbeats which is awesome and it was competitive down the very end! Looking forward to seeing you all back next year.
Final standings:
Austin
Jim
Tim
Ben
Luke
Logan
Andy
Dad