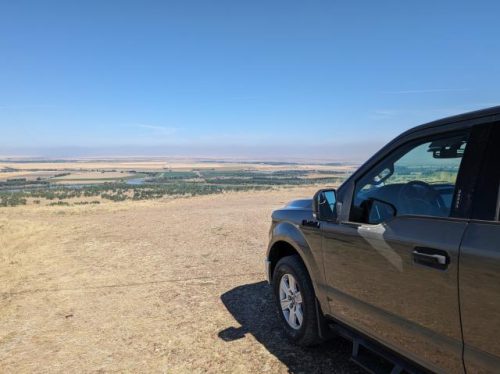 For this Tesla Tuesday, I'm going to talk about taking a road trip that wasn't in a Tesla!
Back in June we took a ~2500-mile road trip to Moab, UT in our Model Y and I did a full writeup about the experience. Recently, due to some unforeseen circumstances, we ended up driving to northeast Montana, and given the complete lack of charging infrastructure in that area, we took our F150 on the ~2000-mile trip. We spent two days getting out there and two days coming back. This was a rare opportunity to take two multi-day road trips in very different vehicles. So how did the F150 fare after our experience with the Model Y?
If you're not familiar with northeast Montana, you should know that it's extremely difficult to get to. An Oxford University study listed Glasgow, MT (our destination) as the hardest city in the United States and they have proudly adopted the "official middle of nowhere" slogan. Glasgow has a population of 3300 people making it the 23rd largest municipality in Montana. The closest city with at least that population is Lewiston, MT 200 miles away. The interstate doesn't go anywhere near Glasgow. About half of the trip is on two lane highways. The train is a viable way to get from Seattle to Glasgow, but given the rules about Amtrak having to cede right of way to freight trains, your 20-30 hour scheduled train ride might be doubled. When an electric vehicle did venture into Montana away from the interstate, it ended up on the front page of the local paper. Thankfully we still have one foot in the world of internal combustion engines and the truck makes a great road trip vehicle.
Pros of driving the truck on a long road trip:
Gas stations are everywhere. While there are long stretches of road with no gas on this route, it was easy to find one whenever we needed it.
We could drive over 400 miles without refueling. This meant we had the option for more bathroom-only stops at rest areas. While the Model Y has a theoretical range of ~330 miles, I rarely planned anything more than 200 between charges given the relative lack of charging infrastructure.
There was tons of room to carry our all our gear. We even threw a full size cooler in the back to keep snacks and lunches cool. We ate breakfast and lunch in the car on all our travel days which sped up the trip and saved us money.
There is more room in the cab for us to have things like pillows and snacks.
When we drove the Tesla to Moab, I would plan on getting to the midway stopping point hotel with a low battery and then while Tyla and Elijah swam in the pool, I'd go out to charge again. One night with the truck I did go out to fill up the tank but that was much faster than putting a big charge on the battery.
It's nice stopping at travel plazas where we can wash the windows, use the bathroom, and get some snacks all in the same spot.
It was nice to blend in when we were in northeast Montana. A Tesla would have stuck out like I was Elton John in a sequin jacket.
Cons of driving the truck on a long road trip:
Gas is expensive! Montana has significantly cheaper gas than Washington, but we still spent over $400 on gas alone. We averaged 19.8mpg on the way out and 19.1mpg on the way back due to a major headwind for the first ~5 hours of our trip. If we could have used chargers on the way, we would have only paid around $150 in charging fees.
You'll never believe this, but I had to manually steer the truck! What nonsense is this? Joking aside, I did miss the autopilot features of the Tesla.
The Model Y is AWD and the truck is RWD. It does have four wheel drive but I don't think it would be a good idea to leave that on for hours on the highway at high speeds. The AWD system gives me a lot more confidence especially on windy, wet roads.
While the truck does have Android Auto, it means that I have to leave my phone plugged in to the car all the time. Sometimes when everyone else is sleeping or listening to their own thing, I like to pop in one headphone and listen to a podcast. I can't do that without disconnecting Android Auto which means we don't get traffic alerts and nobody else can listen to music. In the Tesla, the default maps are great and we have Spotify built into the car.
The truck doesn't have automatic climate control so I kept having to futz with the temperature controls.
But how about our travel speed? Did we get there faster since we didn't have to stop to charge? I kept a detailed log on the way out so I could analyze things. Our average overall trip speed with the Tesla was almost identical to the truck with the truck being a few mph faster on our return trip. We made a total of 5 stops (plus our overnight stop) that averaged about 9 minutes each. The distance between the stops is about the same as if we had needed to charge, but we saved time by not having to charge. Most charging stops are 10-20 minutes so some of the stops were ~10 minutes faster than they would have been in an electric car. Your results may vary depending on how much of an iron bladder your occupants have.
So which vehicle will we take on the next trip? The Tesla. It's not much of a contest. Nothing on the "pro" list for the truck is worth the extra price of gas, and the Tesla has those other items in its favor too. The only sticking point is, like the Montana trip, if charging will be hard. Situations like that are already rare, and they will be decreasing more over the next 5-10 years as the US standardizes on the Tesla charging connector and more charging stations get built both for fast charging and for overnight charging.
I live in a bubble of the highest per-capita EV ownership in the country. This trip was a good reminder of the huge amount of land that the EV infrastructure needs to cover and the diversity of people that it needs to win over. All of that will take time, so for now I'm sticking by my general statement that an EV can save a lot of people money today, but I'd be hesitant to recommend one to a single car family in most cases.