As Tyla and I struggled with what to get Elijah for his birthday, he was regularly asking us if we could go camping. We have a couple trips planned this summer, but then we had the idea to go camping for his birthday. Mid-June can be cold and wet but then we hit on the idea of renting a cabin at a state park. There are quite a few options but we ended up at Bay View State Park. You can check my Instagram account for more photos, but I wanted to share a little more about the trip here.
When we pulled into the park, I said, "UH OH! Elijah! I didn't pack the tent!" Then we turned the corner and saw the cabins. He got a kick out of that, and the cabin was fantastic! It's about a 12×12 room plus a covered front porch with a swing. It rained a lot for the first evening, night and and most of the next day. We were very thankful for the dry area! It was just the right size for the three of us (one more kid would have been fine too.) The cabin had power, lights, and a heater. We didn't see it listed before went, but it also had a fridge/freezer and microwave. We didn't make use of those since we hadn't planned to have them available. We ate our meals on the front porch when it was rainy and we were able to play some card games there too.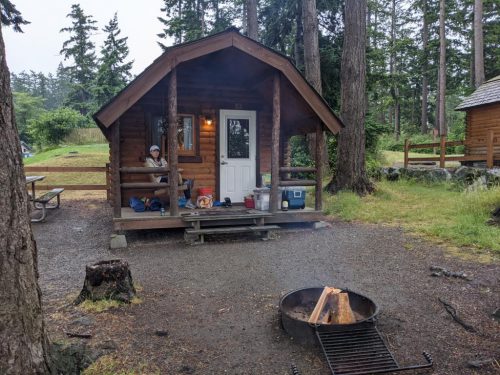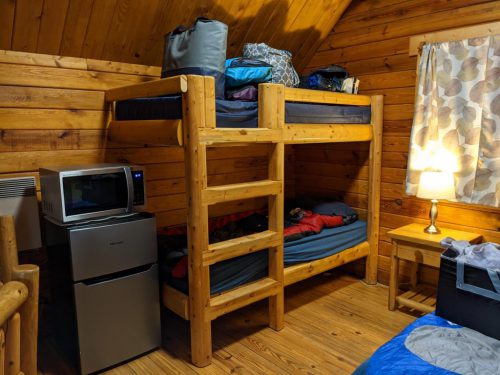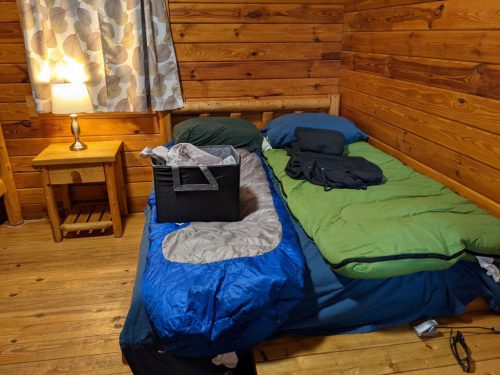 The park itself isn't huge but it wasn't very full and we generally had the shore area to ourselves. We spent a lot of time throwing rocks into the water and exploring at low tide.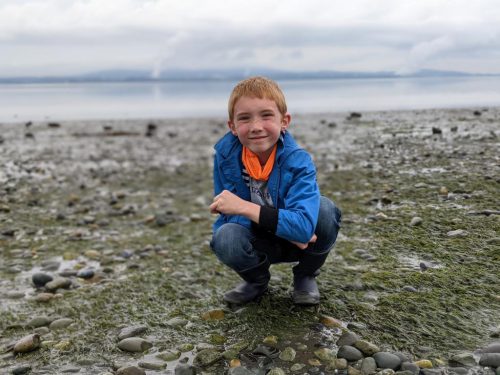 We drove a mile or two down the road to Padilla Bay Shoreline Trail. As I parked at the south end of the trail, I noticed fresh glass by our spot… and the spot where the next car would be, and the spot after that… and all ~5 spots in the parking area. We got back in the truck and parked on the north end of the trail which was in a more populated area. Elijah was able to ride his bike and we walked the ~2 miles down to the barn along the trail. If you've been in our house, you may remember the barn photo that's above the half-wall in our living room. I took that photo about 8.5 years ago when Tyla and I visited her family who was camping at the park. Tyla was pregnant at the time so it was fun to go back with Elijah and take a family picture in front of it.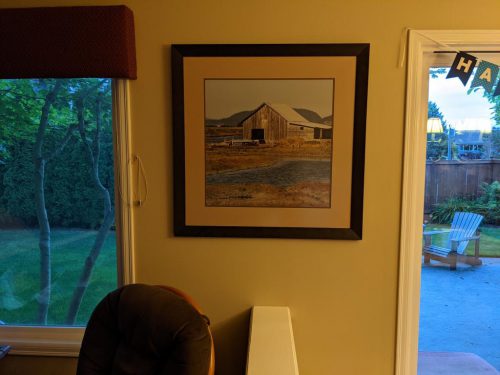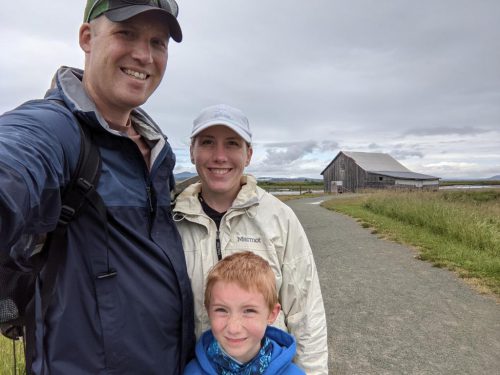 I kept thinking about how perfect the cabin rental was this weekend. We might have canceled the trip due to weather if we had planned to use a tent. It didn't take us long to start searching to see what other parks have cabins and yurts available for rental. I think this might be something we explore more in the future.