Since you're reading this on my website, let's start with the biggest change I've made on this site: I quit blogging every day. Around Memorial Day this year, I stopped forcing myself to get a post up every weekday. That ended a streak of nearly 4000 weekdays in a row with a blog post. It has felt a lot more freeing to only write when I have an idea for content instead of scrambling the night before to try and fill an empty spot in the calendar. And while this is a terrible model for driving traffic to a site, my main goal has always been a kind of "life journal" that might store some interesting nuggets in the decades. To that end, I tried to write some longer articles about memories from my childhood. Those felt like some of my better posts from the year: Childhood Christmas Gifts, Baseball Stories,  Parental Albums and Sleepwalking Stories.
The biggest change for all of us this year was the loss of Tyla's mom to breast cancer. Nancy had been battling the cancer for years but it was pretty clear early in the year that we were crossing the point of no return and in the end, it went downhill very quickly. Those weeks and months were full of a wide range of emotions complicated still further by having a four year old in the mix. I found it really difficult to be supportive both to Tyla and Elijah at the same time. For example, many times I felt like the way I could help the most was to get Elijah out of the room/house and give him a normal day, but that meant I wasn't there to help Tyla. But we all made it through, and because all of us believe that Jesus died for our sins, I know we'll be reunited in heaven.
I said things declined rapidly. Just the weekend before she died, we were all camping at Cape Disappointment. It's a beautiful park right along the ocean. I thought it was healthy for Tyla's family to spend that time together, have time for long talks, and have one last outing with Nancy. Elijah had a lot of fun riding his bike around the campground and sleeping in the tent. Whenever we ask him what he wants to do for vacation next summer, he asks to do that trip again.
Our other summer vacations included Memorial Day weekend at Discovery Bay, a week in Indiana, and our long road trip to Fort Peck, MT. Spending 4 out of 6 days on the road with a four year old turned out about as perfectly as it could (aside from the crazy car trouble at 4am as we were trying to leave.) He did fantastic and now it has us thinking about some other road trips that we might take.Between the funeral and the Brandt family reunion, we got to spend a lot of time with Tyla's extended family. I finally feel like I know most of the kind people who send us Christmas cards every year! It was nice for them all to meet Elijah too.
At the 2016 Christmas party, Logan mentioned that it was his "man mission" to climb to Camp Muir. The guy he was talking to said, "I'll go with you!" In the blink of an eye, we had a crew of people ready to hike up there with him. I had been there back in 2010, but it was such a great hike that I knew I wanted to do it again. Half the fun of hiking Camp Muir is all the training hikes you need to do ahead of time! We hit a lot of great trails including: Little Mt. Si, Lime Kiln Trail, Mt. Pilchuck, Lake Melakwa, Mason Lake and Little Bandera Mountain. I had Elijah in my backpack for a lot of those hikes. Next year he'll be too big and it will be time for him to hoof it himself.
Hiking Camp Muir with a group that big and vary different schedules means that you randomly pick a date on the calendar and pray for good weather. Thankfully, the weather was PERFECT. The smoke from the wildfires cleared out and we had blue skies and perfect temperatures. I beat my previous time by 40 minute (16%) so I was very happy about that. I didn't feel nearly as tired the next day either so I'd say our hikes leading up to this one were chosen well. The only downside to the day was that Tim was planning to come with us but he got injured shortly before the hike. So that just means we'll be doing it again. Tim, let us know when you're ready and we'll put it on the calendar!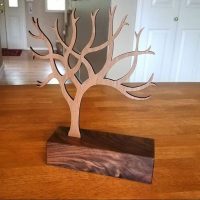 I continued on with the woodworking hobby, and in the beginning of the year, I made my biggest tool investment yet: a beefy new Grizzly table saw. That continues to be solid purchase in my book and it gets a lot of use. Projects this year included a set of wooden blocks, a plant bench, a Washington bottle cap map, an anniversary photo printed on wood for my parents, piano book shelves, a couple Mother's Day signs, the Instagram photo frame (my favorite project of the year!), magnetic coasters, laser cut decorations for Elijah's birthday, a cutting board, a jewelry holder tree, two wood signs carved with a router, a storage closet makeover, a wood semi with two trailers, a marquetry butterfly, and a drum. I feel productive when I read that! Even with all those things checked off the list, my project idea list has grown so I better keep going.
See you in 2018!
Previous Year In Review Posts: 2003, 2004, 2005, 2006, 2007, 2008, 2009, 2010, 2011, 2012, 2013, 2014, 2015, 2016