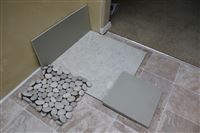 We're a couple weeks away from having our master bathroom remodel finished. I'll do a full write up on that with lots of pictures when it's finished, but I wanted to share one small slice of the project with you now.
Going into this project, one of the biggest question marks in my head was how in the world we were going to decide on what tile to used. We needed to pick out a new counter top, tile for the floor, and tile for our soaker tub and the shower stall. I looked around at the websites of a few tile places and was scared away by what I thought would be extremely high prices. Looking to save a buck, I headed to a discount tile store in Bellevue. They're small but they have a nice showroom and the employees were fantastic in helping me design our bathroom. I took in a door from the cabinet and walked out with samples to show Tyla. The floor was white with some gray and brown in it and the shower/tub tile was 8×20" sage. The counter was a gray color. She loved the look so as soon as we signed the contract with our general contractor, we placed the order for the tile. Everything was scheduled to arrive two weeks before the contractor started any work on the bathroom. Perfect!
The tile arrived so I picked it up and set it in the garage. We had the 8×20 wall tile, 20×20 floor tile, and rocks for the bottom of the shower. The next day I realized that the wall tile and the rocks were wrong.
No problem. I called, they ordered the new stuff and said it would arrive in a couple days. A couple days turned into a couple weeks but they were sure that it would show up on the exact day that the tile install was scheduled to begin. The correct rocks did show up pretty quickly but I had to wait for the tile.
While I waited, I got more and more nervous about what would happen if the tile didn't show up. Additionally, I wasn't sure I even wanted it to show up. Was that sage green going to look ok? Would it still look good in 10-15 years?
The magic day came with silence so I gave them a call. They had to check on it and get back to me. "Your tile isn't here. It's not coming. It's never coming. It's discontinued." Apparently the warehouse they work with had been sending mixed messages and here I am at the end of the chain with a contractor waiting to install tile that I don't have. Yikes.
Thankfully my contractor was super helpful. He suggested a couple places in this huge complex of tile warehouses in south Seattle that kept a lot of tile in stock. They looked pretty fancy but what could I do? We were in a hurry. Tyla and I headed down there with our contractor and asked to only see tile that was in stock. We pretty quickly settled on a 12×12 tile that was gray with some brown in it. And the price? The price about 40% of what the original tile cost! We picked up the tile that same day and we were back in action. On top of that, I felt a LOT more comfortable with our less ambitious design. I figure that gray, brown and white are going to be at least sort of in style for a long time.
I eventually got my money back from the original tile store, the new tile got installed, and it all has a happy ending (minus a few weeks of little sleep, but that's just prep for a baby, right?) If we ever need tile again, I've learned my lesson and will head back to one of the big tile warehouses like Daltile where we ended up getting our tile. The prices were excellent and a lot of it was in stock. What does the new tile look like? You'll have to wait a couple more weeks until the bathroom is finished!