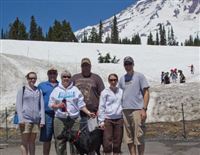 I headed out with the Brandt family to Alder Lake State Park for the Fourth of July weekend. It wasn't our first choice since we got a late start on reservations, but the campground actually was pretty nice. The biggest downside was that it was close to Hwy 7 which is the western entrance to Mt. Rainier, but the traffic died down a bit at night and the fan in the camper drowned out the noise.
Our campsite was just a short walk from a boat launch into Alder Lake and Oskar made good use of that with a lot of swimming. Tyla and I even joined him for a bit. The water is pretty cold since it flows straight off the Nisqually glacier on Rainier, but we had a good time.
On Saturday, we braved the crowds and headed up to the Paradise visitors center on the south side of Rainier. It was pretty easy to spot the extra dirty snow on the Nisqually glacier from a big rock slide they had last week. (Video is posted on YouTube from hikers.)
On Sunday night we headed up the road to Eatonville to check out their fireworks display. After a couple conversations with the police, we ended up getting booted off the school grounds viewing area because pets were not allowed. We watched from the parking lot, had a great view, and beat all the traffic leaving town.
All in all it was a great trip. We couldn't have asked for better weather and camping was a great way to celebrate one of the first weekends that has really felt like summer!
Photos are posted in the photo gallery!