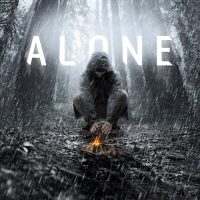 There are a lot of "survival" shows on TV today and they range from educational to completely fabricated but they share one thing: the people aren't really surviving. Or rather, they are surviving very easily because they have food and supplies. There's no real chance of anyone dying.
The TV show "Alone" is different (or else they do an exceptionally good job of faking it.) On this show, 10 contestants are each dropped in their own piece of land in a remote area. They all get the same basic items and then they can choose 10 more from a list. The last one to give up wins $500k. Their only contact with other humans is when they have periodic medical checks and somehow they swap out camera batteries and SD cards with the producers. Yes, along with surviving, they have to film everything themselves too. That's a lot of heavy gear to carry.
It's amazing to watch as some people tap out on the first night when they realize they are literally camping next to wild animals that can kill them. Others stay so long they get pulled out because they fail their medical checkpoints. Shelter usually goes well for most contestants, but food is always a struggle. The locations include Vancouver Island in British Columbia, Patagnoia, Mongolia, and Great Slave Lake in northern Canada. None of those are hospitable places to try to survive and they always start the season towards fall when everything is starting to die off and get cold.
I started watching the show because TimS got hooked on it and convinced me to try it. I started with season 7 because it happened to be on Netflix at the time, but if you watch, I recommend you start with season 1. (Season 7 is the best one and I think it would be even better if you built up to it to see how good that season's contestants really were!) Currently Hulu has the first 7 seasons. Season 8 is only available for purchase. There's also one season of a spinoff called "Alone: The Beast" but it's not worth watching.
If you're squeamish about watching someone gut big game with a Leatherman or try to repair a gash in their hand from an axe that slipped, maybe this isn't your show. But I loved this show and I hope they keep going with it. The psychology of the whole thing was amazing, and I feel like I learned some bushcraft by osmosis.