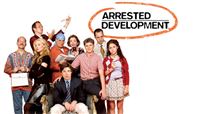 Arrested Development was cancelled after only three seasons. The ratings must not have been where they needed to be, but I think the show gained quite a bit of popularity when it came out on DVD. At least I know that's how Tyla and I got into it. We were both thrilled to find out that years after it was cancelled, Netflix had put up the money for a fourth season! We renewed our streaming membership to get a crack at the episodes when they were released on Memorial Day.
Netflix was really slow that day. A quick check of Twitter indicated that lots of other people were having similar difficulties and I wonder if it was because Arrested Development came out? It's still pretty big news to have an internet streaming company fund a "real" TV show so it doesn't seem unlikely that the hype was more than they could handle.
As for the show itself, it's fun to see all the characters again, but I'd probably rank the fourth season somewhere around the quality of the first season. It's good, but not as good as seasons two and three. It is really nice to have all the episodes available at once instead of having them doled out one by one each week. I'll be very surprised if this isn't very close to the future model for shows. Getting one episode a week with a bunch of commercials in the middle really seems ancient and backward.
Thank you Netflix for funding this project and thanks to Ron Howard and crew for cranking out more episodes.