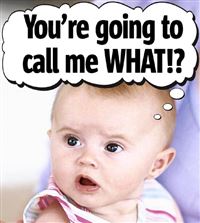 While Tyla has been studiously reading through her baby name book over and over again taking notes, I've kept a simple text file on my computer and added names to it whenever I heard something I liked. Agreeing on something like this seemed like it would be pretty difficult so I refused to talk about it with her until we knew the sex and could cut the discussion in half.
The other night we shared our top ~20 boy names and surprisingly when we finished we had about half a dozen names that we both liked. We haven't landed anything for sure yet, but so far it's going better than I thought it would.
It's a really tricky process. Do you choose a family name or naming tradition from one side of the family and ignore the other one? Do you try to combine them somehow or ignore them both? What if one of the names you both like happens to be the name of someone you wouldn't consider naming your child after? How popular should the name be? We don't want him to have 10 classmates with the same name but we also don't want to give him a name that nobody can pronounce or spell.
One thing we did agree on right away is that we're not going share his name until he's born. You'll all get to be surprised! But just to whet your appetite, here are a couple names I had on my list that Tyla did not like:
Dr Einstein von Brainstorm
Chief Kickingstallion
For you nerds out there: Hector Kirk Leo Martens (HKLM)
Middle name: WaitForIt
If we had twins: Copy and Paste