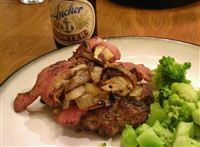 I dare say that I've gotten pretty good in the burger department over the years, but last week I tried a new recipe and it turned out really well. The secret was cooking bacon and then using some of the leftover fat to cook chopped onions which were then incorporated into the meat. YUM! As part of our semi-low carb diet, we ate these without buns.
Ingredients

6 slices bacon, chopped
3 tablespoons reserved bacon grease
2 medium onions, divided, 8 ounces
2 pounds ground beef
2 teaspoons Worcestershire sauce
2 teaspoons Montreal steak seasoning
1/2 teaspoon salt
4 ounces smoked Gouda or cheddar cheese, shredded or sliced

Directions

In a large nonstick skillet, fry the bacon until crisp. Remove the bacon from the pan and drain on a paper towel-lined plate saving the bacon grease. Keep 1 tablespoon of the grease in the skillet and set aside 2 tablespoons for later. Finely chop 1/2 of one of the onions and sauté it in the 1 tablespoon grease for 3 minutes; add to the bacon and let cool.

Thinly slice the remaining onion. Heat the remaining 2 tablespoons bacon grease in the skillet and sauté the onions over medium heat, covered, about 10 minutes or until golden brown. Stir occasionally. Season with salt. Remove the onions from the skillet and keep warm while cooking the burgers.

Meanwhile mix the ground sirloin, Worcestershire sauce, steak seasoning and salt in a large bowl. Stir in the bacon mixture. Form into 4 patties. Grill burgers.

Top each burger with 1/4 of the cheese; cover the pan until the cheese melts. Serve the burgers topped with the sautéed onions.