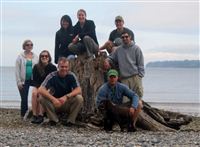 This is the fourth annual big summer camping trip where Matt, Laura, Andy, Stephanie, Tim, Chelsea, Tyla and I head out to a state park for a weekend. We make the reservations around Christmas time to make sure we can claim a weekend on everyone's busy summer calendars. This year's adventure took us to Birch Bay State Park up north near the border.
Tim, Chelsea, Tyla and I arrived on Thursday night and the rest of the crew arrived Friday night. We upgraded to two campsites instead of the single site we've gotten in the past. It was very nice having extra room, although ironically, this probably would have been the best park to cram four tents onto one site. The campsites were quite large!
On Friday, Tim, Chelsea, Tyla and I hopped in the car and drove 2 hours east to Artist Point. It's a spot above and beyond the Mt. Baker ski area. It's only open for about two months out of the year because there is so much snow. In fact, the road opened for the first time that very day. There were still 20 feet of snow in some areas! We had fun playing in the snow and then headed back. It was a lot of driving but I'm glad we got to see it. I rode up there last year on my motorcycle and have always wanted to take Tyla there.
Saturday was spent playing cornhole, walking along the beach, and exploring the little town. On Sunday we headed back home.
Of the four trips, I think this park was my least favorite. The park was nice, but it didn't have as much to explore as Deception Pass, Fort Flagler and Moran State Park. But still, it was good to be out camping. Thanks to everyone for coming and making it a great weekend!
Photos are available in the photo gallery.