I played my first disc golf round in early August, so less than two months later, I'm clearly ready to enter a tournament, right?
We play most often at Blyth Park and I saw some signs up for a tournament. This was an "unsanctioned" tournament meaning you didn't need a PDGA (Professional Disc Golf Association) membership to enter. I figured it would be a stretch for my skill level, but the $40 entry fee included three discs and that's about how much three discs would cost so it seemed like a reasonable way to add more discs to my bag and learn more about the sport. The catch was that you can only use those exact three discs in the tournament even though you've never thrown them before.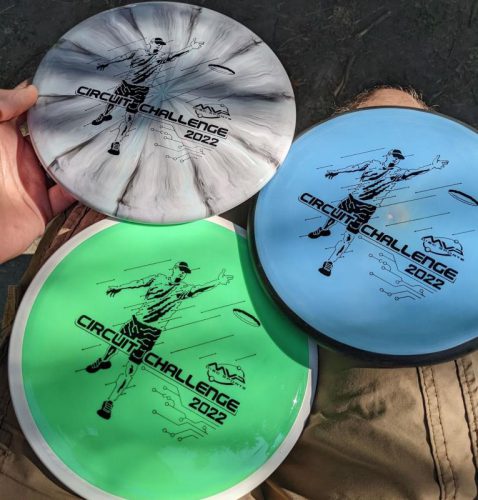 My tee time was at 12:30pm so I showed up around 11:30am not knowing what to expect. We got there just as an ambulance was pulling up. I quickly learned that a player had broken their leg on the course! It winds through the woods and there are some very steep sections. He took a bad step and SNAP! That delayed everything by about half an hour so I didn't end up teeing off until 1pm. The injury happened in the furthest point from the road so it took them a long time to extract him.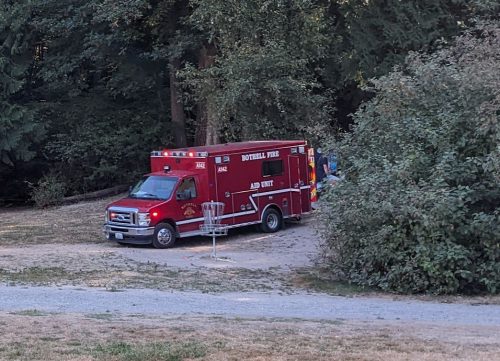 There were three other guys in my group and thankfully they were all nice to play with. Most people in the sport seem to be very nice but there are always a few of "those guys." The first whole on the course is very difficult. There's a row of trees across the fairway and it feels a bit like the windmill hole on a putt putt course. You try to get it right but there's a lot of luck involved (at least at my skill level.)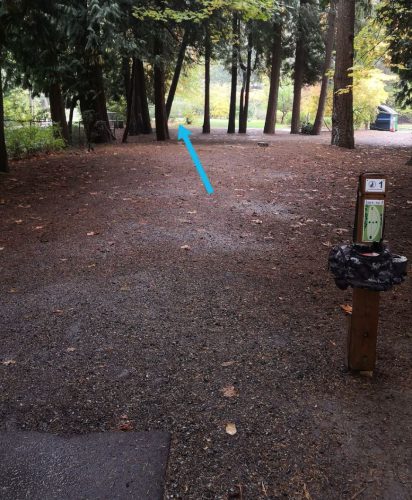 I was encouraged to see lots of other players hitting the trees too. That was a common theme for me during the day. Lots of other people struggle with the same things that I do. Anway, my tee shot survived the trees (in a different gap than I aimed for) and my next shot from about 100 feet out hit the chains and bounced out! I was thrilled with a par on that hole and told me teammates not to expect more throws like that from me in the future.
We were keeping score right in the UDisc app. I don't know if there are other disc golf apps, but this one seems to have pretty much cornered the market. They've done a really good job with it and I keep all my scores in there. For the tournament, it easily let one person track scores for the whole group and all the stats show up right on everyone else's phones so they can find errors, track live leaderboards, etc.
When playing the course normally, there aren't official out of bounds areas clearly marked but they had them all marked for this tournament. Some of the baskets are within a few feet of the out of bounds line so that adds a significant challenge. On hole three, my putt hit the chains of the basket, bounced out, and had an agonizingly slow roll just barely across the line. So my par 3 turned into a 5. Ouch!
I can finish a round (10 holes) by myself on an empty course in 25-30 minutes. If I play with Elijah, it's about 45 minutes. But it took us 1.5 hours to finish our first 10 holes. (For some reason this course has 10 holes instead of 9.) Thankfully, the weather was perfect. It was a real blessing for being so late in September. It was in the low 70s and sunny, and if there was anything to complain about, there was just enough wind to make you think about it on some throws.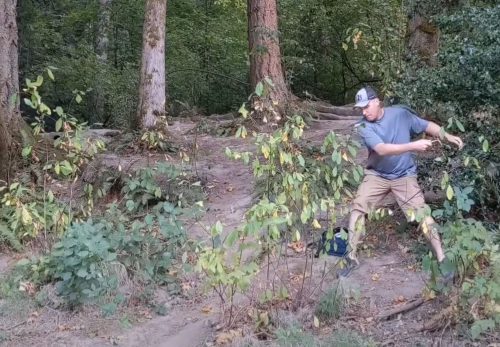 I finished the first 10 holes at 4 over which is good for me. I've had two rounds at 3 over and if you factor in the OB rules that I had to contend with this time, I was very happy. Two of the other guys in my group were a stroke or two under par and the third guy was quite a few strokes behind me.
The second 10 holes was rougher and looking back, I think I was getting tired. It had already been a long day and I usually only play 10 holes at a time. The whole course is in the woods so it's not uncommon to hit a tree, but usually I can recover and still get par or bogey. But I hit multiple trees on both holes and double bogeyed both. I was able to pick up a birdie later to offset some other less than stellar holes a little and ended up +6 on the back 10 for a final score of +10 over 20 holes.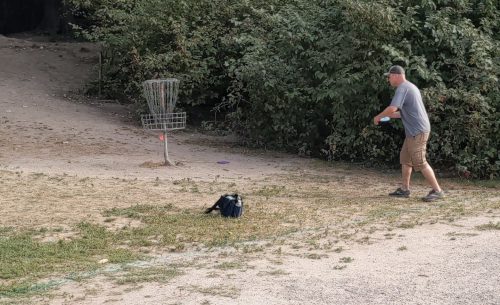 There were some extra competitions happening within the tourney too. You could pay an extra $5 for an "ace pot" to be split among any players who got a hole in one. As far as I know, only one player got it so he won $500. (It was on hole 8 if you know the course. He had a good throw plus a bit of luck with a friendly tree bounce.) The other competition was "closest to the pin" on every hole. There was an orange flag marking the closest tee shot. By the end of the day, all of the flags were either touching the pole or within a couple feet. It was amazing to see some of those throws when I'm happy just to par the holes.
I'm waiting to see the official results with the full 100 players, but the UDisc leaderboard says I was 65 out of 84 players. My goal going in was to have fun, stay out of the way, and not be last. I'd say I accomplished all of those goals!
Will I do it again? Yes, but probably not very often. I like that you get free discs for playing the courses, but until I'm good enough to have a chance at making it into the money, I probably won't do more than one a year. The top 30 players got a payout in this tournament and a score of +1 was the cutoff for that. That's a big stretch for me right now but my personal goal is one round (10 holes) at even par. I have a ways to go before I'm in possible contention for the money but it seems achievable.