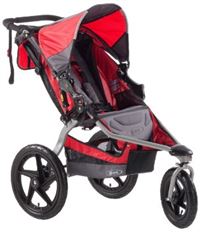 After months of research, Tyla settled on the BOB stroller for jogging. I wasn't thrilled with the price (we traded in Tyla's first car for less than the cost of the stroller!) but after checking it out, I was impressed with the build quality. Even the 20% off coupon at Babies R Us wasn't enough to match the screaming deal on Amazon. We ended up with the slightly more expensive Stroller Strides version because it comes with a free week of Stroller Strides classes which she is already planning to do anyway.
Unboxing was very simple. I just had to pump up the tires and attach them to the stroller. One tricky bit was that we have a Graco Click Connect 35 car seat. BOB isn't making a car seat adapter for these new Graco seats but they say the Chicco adapter will work. I picked up a used adapter from a friend at work and it works great. While Elijah isn't quite old enough to go jogging with Tyla yet, the car seat adapter will be handy to use for more casual walks.
We've heard lots of people who love these strollers and keep them for a long time so hopefully we get our money's worth! I'm already thinking about how I can modify it a bit to add some LED lights for visibility while she's jogging.