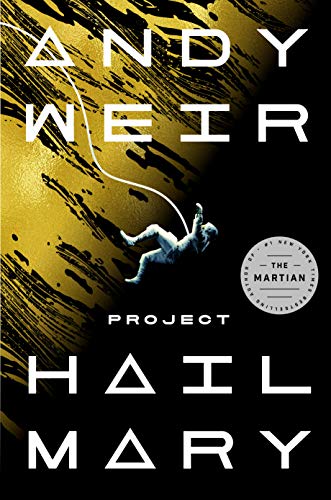 It has apparently been six years since I did my last post of things that I've highlighted while reading books on my Kindle. I thought I'd do another batch but this just goes back through books I've read in the last two years. For a full list of all the books that I've read, you can follow me on goodreads. It's mostly science fiction and fantasy with a few nonfiction thrown in every once in a while.
Before I get to that though, note that I chose Hail Mary by Andy Weir for the thumbnail but I didn't include any quotes. I'm not giving you any spoilers, but I think this was my favorite book of the period. If you're even a little bit sci-fi curious, check it out.
Under what circumstances is it moral for a group to do that which is not moral for a member of that group to do alone?" "Uh … that's a trick question." "It is the key question, dear Wyoming. A radical question that strikes to the root of the whole dilemma of government. Anyone who answers honestly and abides by all consequences knows where he stands—and what he will die for.

Robert Heinlein, The Moon Is a Harsh Mistress
"Relaxing isn't relaxing," he said. "Sit around too much, and you start sitting around even more."

Brandon Sanderson, Rhythm of War
If your joy lives in a codependent relationship with anything on earth, then your joy is dependent on something undependable. You don't want that. The wisest man in history doesn't want that for you either. King Solomon warns, "Hopes placed in mortals die with them" (Proverbs 11:7).

Mike Novotny, 3 Words That Will Change Your Life
I always thought when I became a man, I'd feel more confident, but towering over this boy, I feel so very small.

Pierce Brown, Iron Gold
Anger is nothing more than justification for bad behavior. And I have no time for bad behavior.

C. Robert Cargill, Sea of Rust
He defined good company not by the conversation but by the lack of it. When there was no need to talk to feel comfortable, that was the right company.

Michael Connelly, The Black Echo
This time, when she'd pointed it at me, she'd flicked the safety on. If that wasn't true love, I don't know what was.

Brandon Sanderson, Firefight
When you're young, you can assume that everyone older than you has life figured out. Once you get command yourself, you realize we're all just the same kids wearing older bodies.

Brandon Sanderson, Starsight
The huge moments in life seemed like they should have more ceremony and effects. The important words—the life-changing ones—should echo a little. But they didn't. They sounded just like everything else.

James S. A. Corey, Tiamat's Wrath
And I have to give an honorable mention to Grace Abounds by Daniel Deutschlander. I clicked on that to look at the highlights and I made over 700 highlights in ONE BOOK.