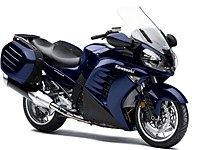 I bought my black 2009 Kawasaki Concours 14 ABS one year ago this week. In honor of that event, I decided to check out the 2010 model and see what they changed. It's the third year of the Concours 14 and they made quite a few significant improvements.
Traction control
Coactive-braking technology which links front and rear brakes (can be turned off)
Fuel economy assistance mode to improve mileage by about 25% when cruising on the highway.
Blue color (they still offer black too)
Redesigned side fairings to redirect exhaust and keep the rider cooler
Heated handgrips
Tank bag hooks
Side mirrors were raised
Larger, redesigned windscreen which is supposed to reduce turbulence around the helmet
A lot of these things would be nice to have, but if I had to pick two I'd pick the new side fairings and the fuel economy mode. I might stop by the dealer to see if the fairings are compatible with the 2009 bike.
But do I really have buyer's remorse? Nope. You know what the 2010 model doesn't come with? The 5000 miles of good memories I put on my bike in the last year.