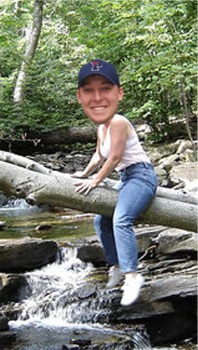 I've been known to complain about the weather forecast around here not being right. This weekend was no exception. Oh it rained just like the forecast from my last post showed… but there's no way it was 50 degrees at night. It barely made 50 during the day. The nights were around 35. We arrived Friday night in the rain and in the dark. It took too long to set up my tent so I was left with a nice little lake in my tent. It's kind of cool to sleep on a raft and be able to fish from your bed, but it's a little chilly when you dip your sleeping bag into the lake in the middle of the night. It continued to rain continuously through about 2AM on Sunday morning. That's a lot of rain. And a lot of cold. For those of you that skied Sunday River on New Years, the weather was very similar.
We played some games under the big tent, ate some great food, braved the rain to see a bunch of fantastic waterfalls on a 3 mile hike, and made a toxic fire of death. The conditions were by no means enjoyable, and I'll be the first one to admit that I'm not a hardcore camper, but it was still fun. We were pretty jovial for most of the trip so that kept the mood light. There were a bunch of good quotes from the trip but my favorite came courtesy of Ed, "Any day I get to wear vinyl is a good day." He had a lot of good days this weekend because we had our rain gear on the entire time.
Because it was raining, we didn't take a camera along on our hike. There were a few pictures taken this weekend so I'll post them once they find their way to my email inbox. Until then, I did a Google Image search for pictures from Ricketts Glenn. Almost all of them had people in them so I just put Ed's picture on a woman's body sitting on a tree over a river along the trail. Close enough.
I think this is officially the end of camping season for me. That won't be my last trip to Ricketts Glenn, but my next trip won't involve a chance of snow.