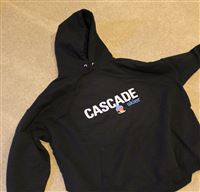 I've been running this CascadeSkier thing on the side for five years now. The sidebar gadget is still running but will be phased out as people move to Windows 8. The phone app just crossed 1000 sales and the Windows 8 app is on track to overtake the phone app sometime this ski season. I make pennies per hour, but as I've said before, it's the only hobby I have that makes any money.
Today is a big day for the Windows 8 app. The update that hits today includes support for live tiles. Each ski resort can be pinned to your start screen and it will show a current web cam along with hourly temp, 24 hour snow total and total snow base. It's the feature that got the most positive feedback on the phone and I'm happy that it's in the Windows 8 version now.
Additionally, today is the launch of the CascadeSkier clothing line. I have a hoodie and a t-shirt sitting in my closet and they look great! If a dozen people purchase something, I'll be shocked, but I mostly did this just for myself.