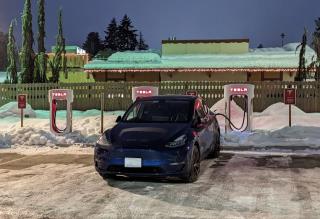 Welcome to another Tesla Tuesday!
Our Model Y is parked in a garage and the temps outside rarely get much below freezing. Those two factors means that when I read the user manual, I skipped over all the cold weather information. That came back to bite me a bit when we spent a weekend in Leavenworth.
On our second night there, it got below 20 degrees and snowed an inch or two. We were leaving that morning so when I woke up around 6am (like I always do), I snuck out to go charge so we'd be ready to go when everyone else was awake. I turned on the climate control before going out to the car, brushed it off, and I was able to open the car door just fine. If that didn't work, I knew I could use the app to release the door as well.
During the 4-minute drive to the supercharger, I told the car where I was going so that it would start preconditioning the battery. But when I arrived and tried to open the charge port, it wouldn't open. Uh oh. I sat in the car for a while reading through the owner's manual and found out that there is a small heater inside the charge port that is engaged with the rear window defroster. I turned that on and when I checked the charge port 5 minutes later, it opened easily.
So that was annoying but it's not a big deal now that I know about it. I think the big takeaway was experiencing firsthand how the car would behave in cold weather. A few days ago, Tesla released a video talking about the innovation in their heat pumps, and my experience shows that it's working. When we drove there last summer in 100 degree weather, we averaged right around 300 Wh/mi. On this trip in the cold, we averaged about 310 Wh/mi. In 60-70 degree weather with little HVAC usage, I'd expect around 265-270 Wh/mi. So temps in the teens or above 100 mean maybe a 10-15% increase in battery usage.
Where I did see a lot of loss was in warming up the car after it had been sitting. I didn't know how long it would take to warm up and defrost so I probably let it run longer than it should, but between the normal loss from the car sitting around and the additional loss from having to do more work to warm up, I could see a 2-3% drop before I drove it the next morning. Thankfully it only costs $0.24 to fill 3% of the battery, but if I had planned a trip that was cutting it close on battery, I would want to factor that in.
We're planning a multiday, 1000+ mile road trip next summer and I really want to do it in the Tesla so this was another good learning experience. That trip won't be cold, but it's all good data and it also helps me feel comfortable getting more of the usable range out of the car. When we do that trip, I want to do a full blog and possibly an accompanying video showing what it's like to road trip in an EV. Maybe someone will find it interesting now, but I think it will be very interesting to watch it in 20-30 years when there are EV chargers everywhere and battery technology has progressed even more.
Random bonus story: As we were driving around Leavenworth looking for parking, a blue Model 3 was doing the same thing. I happened to notice their license plate and it was sequentially less than 50 numbers away from ours.