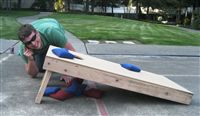 On Thursday night, Tim, Chelsea, Tyla and I met after work to play some cornhole. In the very first game, Tim made cornhole history. I've only seen three people have ever gotten three out of four bags in the hole in one inning. (I am one of them, go me.) Four seemed impossible. Until Thursday.
Tim nailed the first three of the inning. I had put one in during that time as well and had another resting on the lip of the hole. Tim tossed his fourth bag. It arced gracefully through the air, landed on mine, hovered there for a second and then they both fell in. Four cornholes in one inning. After much celebration and picture taking, the girls took their turn. Tim started off the next inning by sinking the first one for an incredible five bags in a row. How this didn't make SportsCenter's Top 10 plays, I will never know.
Tim, I submit to your cornhole skillz. You are the true Corn Star.
PS. This is a photo of Tim posing by his four bagger calling someone on the phone to share the news.