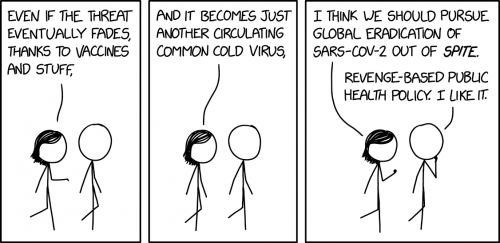 Today we get our second vaccine shot, so two weeks from now, we'll be fully vaccinated! Since that gets us so close to the end of Elijah's school year, we'll just stretch our family lockdown a couple more weeks because if any of the three of us have symptoms that overlap with COVID, he can't go to school. After this long in lockdown, a couple more voluntary weeks to help him finish out the school year doesn't seem too painful. Plus, with the spike in cases going on around here right now, we're not to eager to take our 95% immunity out for a test drive.
Besides, I think it's going to take us a while to emerge back into civilization. Sometimes it feels like we're stepping out of a bunker and blinking our eyes to adjust to the light while we field invitations to immediately jump into situations that we haven't experienced for 14 months. Logically, I'm excited to remember what it's like to take a walk without crossing to the other side of the street whenever I see someone coming. I'm excited to see friends and family again. I'm excited to worship in person again. I'm excited to shake hands with someone outside my household again. But emotionally? It's a lot to deal with and it's going to take time.
For my last post in this series on the final day of our family lockdown, I'm queuing up a big list of positive things from the pandemic. But I've also been thinking about how we, as a society, can learn from this experience. What an amazing time to be studying sociology, epidemiology, psychology, economics, data science or a host of other topics. This pandemic has generated material for thousands of PhD theses. Below are some of the things that I hope we'll be able to do a better job at answering together as a civilization because many of them apply to a lot more situations than just COVID. COVID just threw them at us more rapidly than other forces do.
How many times can "official guidance" be changed before people ignore it completely?
How do we keep science and politics separate, or is it wrong to separate them?
How can the scientific community do a better job of communicating uncertainty in their findings without people pointing to the uncertainty as a reason to throw out the entire study?
How do we strike a balance between people's right to not be hurt by you and your right to live your life? How do we measure the impact of those choices?
How do we convince people to make sacrifices when the benefits that aren't easily observed on a personal level?
How do we get people to respect large data trends instead of their local observed experience, especially when exponential growth is in the mix?
How do we promote respect for experts while still leaving room for conflicting research?
How do we teach people to look at the raw information source before accepting the journalistic summary?
How can data models do a better job of taking into account the difference between what the government recommends and what people actually do, especially as that varies by area?
Not to make light of serious medical conditions, but do we have some kind of mass PTSD after all this time in lockdown?
I doubt there are answers to many of those questions, but there have to be improvements that can be made. And as I think about those questions, I also think back on all the positive content that popped up. The list is so long, but there are three quotes that stick out as I think about them now:
Adam Savage said that Jamie Hyneman had no inertia for changing his mind when presented with enough data to overturn his current understanding. What an amazing compliment! When I heard that, I immediately wondered how I would go about teaching that to Elijah. It's an incredibly complicated problem because it gets into building an understanding of what data is valid and what it should take to overturn your current understanding. On a related note, a moderator of /r/changemyview said that one of the first things he likes to ask is "What would it take to change your mind?" Imagine if every discussion about a disagreement started with that question!
While researching the various presidential candidates, I found a page talking about their approaches to the pandemic. There were the obvious responses like "no lockdown" and "shut down the economy", but another candidate didn't support either one. Instead, they argued for devoting enormous and immediate energy into testing and regularly sharing consistent information. The idea was that most people aren't going to knowingly run around infecting people or making choices to prolong the epidemic. I'm not saying that made this candidate worth voting for, but in a world where it seems like there are only two buckets of viewpoints, the response of "both answers are bad" really stuck with me. (I left the name out because it doesn't matter for the purposes of this post, but because you're probably wondering, it was Jo Jorgensen.)
I logged into a meeting at work a couple months ago and there was an employee who had just moved to the Redmond area from New Zealand. Somebody commented that life must feel pretty much the same because all the meetings still happen virtually. He replied, "Yeah, except you all do COVID a lot differently than we did." I admit that I was clueless about what he meant so after the meeting I started reading. There were 26 deaths in New Zealand from COVID. That's not a typo. Twenty six deaths in a country of 5.1 million people and almost all of those were before the end of April 2020. (If they experienced the US fatality to population ratio, they'd have 9200 deaths by now.) Wikipedia has a thorough listing of the timeline of their response, but after that initial total lockdown last March and April, they've been living a life generally unhindered by COVID including large concerts with 50,000 attendees. I'm really interested to circle back to this one after the dust settles and learn more about the pros and cons of their extreme response.
I've written all this almost looking back on the pandemic because that's how it's looking for my family. But globally? Daily infections are pretty close to the highest they've ever been. The stories coming out of Brazil and India are nightmarish. For example, in India, the number of people testing positive every day equals the population of Cleveland, OH. This virus is far from over and as the United States pulls out of it and has the luxury of wondering what it's like to shake someone's hand again, we can't forget about the rest of the world.
Instead of a Bible verse this time, I'll finish with a video from one of our churches in South Carolina. While this pandemic may have left us feeling crushed and isolated, this hymn is a good reminder that God is the one who can bring us all together again.
Bind us all as one together
In your Church's sacred fold,
Weak and healthy, poor and wealthy,
Sad and joyful, young and old.
Is there want or pain or sorrow?
Make us all the burden share.
Are there spirits crushed and broken?
Teach us, Lord, to soothe their care.

Christian Worship #492
(By the way, Pastor Reeder on the banjo and harmonica is across the lake in Seattle now.)