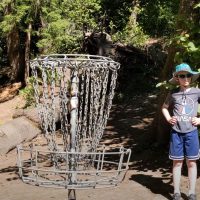 The new craze in our house is disc golf. I asked for a cheap starter pack of discs for Father's Day, and all three of us enjoyed it the very first time we went out. There are about half a dozen free courses within a 30 minute drive and the closest one is only 5 minutes away.
I was a bit nervous/embarrassed the first time we went out, but I've found the disc golf crowd to be extremely friendly and welcoming. Plus, we quickly learned that lots of people are just out there having family fun and we weren't as slow or bad as we thought. Course etiquette is very similar to golf so I was able to work on those social norms with Elijah first and then we started learning more about the game.
YouTube is a great resource for learning disc golf and it helped us understand the basic form, the flow of play, special rules, etc. While there are people who are extremely good at the sport, I've found it to be very accessible for inexperienced players. You can go out there knowing nothing and have a blast. And while it would take a huge amount of time to master the sport, you can find bits success early on. For example, only about 10 rounds into the sport, we've all made a par and I was a few inches off from a hole-in-one. You can pick up a starter set of discs for around $30, and as I mentioned, many of the courses are free. The UDisc app is a great way to find nearby courses and keep score.
It's fun to discover a new activity where I can compete against myself, play for basically free, and see myself rapidly improve since I went in knowing nothing! If you're in the area, I'd be happy to share some discs with you and show you what it's like. At the very least, you get to enjoy walking around in a park for an hour.