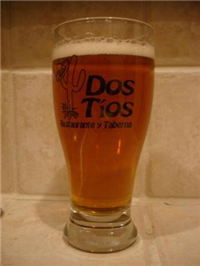 Since last fall, Tim and I have been working sporadically on a little project. We wanted custom beer glasses. But what should the logo be? We went through a ton of ideas and finally settled on "Dos Tios Restaurante y Taberna" which translates to "Two Uncles Restaurant and Tavern." The sombrero has the date 2006 since that is when our common nephew, David, was born. It's also the year that Tim and I became roommates. Why Spanish? Well Dos Tios sounds much cooler than Two Uncles.
The next task was to decide where to order and which glasses to pick. After comparing a lot of different online glass makers, we finally settled on Grandstand Sportswear & Glassware and model #194. The only catch is that these places usually require a minimum order of 72 glasses. Yikes! But it's not all that bad. When he moves out at the end of the year, we'll each be left with 36 and when I buy a house with a man cave in the basement, I'll have plenty of glasses to stock the bar.
I'm extremely happy with Grandstand. The sales department was extremely helpful and responsive. Once we placed the order, they were on our doorstep in just over two weeks. One glass was broken in the shipment, but that's very acceptable to me. Shipping that much glass isn't easy.
So yeah, it's a bit ridiculous, but it's fun to have custom glasses to drink out of. Now we just need to go through and test all the glasses to make sure that beer tastes right in each one!