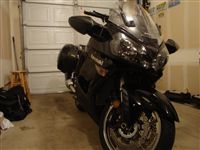 I'm happy to announce that yesterday I enacted my own economic stimulus package with the purchase of a brand new motorcycle. It's a 2009 Kawasaki Concours 14 ABS. The bike is classified as a "supersport touring" motorcycle. It's based on Kawasaki's top of the line ZX-14 sport bike but it has a few refinements to make it suitable for very long rides. The seating position is more comfortable, the windshield is bigger, it has a shaft drive instead of a chain, and there are bags on it. It has a 1352cc engine which puts out roughly 140hp. For those of you keeping track, that's about 85% of the power that my Subaru has and it was less than a quarter of what my car does. Yikes! Needless to say, this thing is crazy fast. My Mustang ran the quarter mile in 13.9 seconds. This bike will do it in about 10.5 seconds. It provides all that speed and power while pampering the rider with smoothness, gadgets galore, and comfort. I compare it to a Bentley. It's a ridiculous amount of power and luxury that no one really needs, but we all want it.
I got a few accessories with it. I ordered a larger windscreen since I'm a bit too tall for this one to work effectively (it raises and lowers electronically!) I also ordered a rear trunk for even more storage. I'm hoping that Tyla and I can take some weekend trips and have enough room to be comfortable. Each of the three bags will fit a full helmet with room to spare. This is a major upgrade from my last bike.
Thanks to Greg at Waldron Kawasaki for making this deal happen. They are fantastic people, and they have been doing maintenance on my Vulcan since I arrived in Washington. I chatted with a few of the dealers in the area, but they ended up matching my best offer and I was very happy to give them my business. Their service department is absolutely wonderful. It's great to have a mechanic I can trust.
I picked it up yesterday after dark so I don't have any good photos, but I have added some photos from my garage. The Vulcan was part of the deal so that is long gone. I have fond memories, but it's hard to miss it much when I have this to ride instead. The first few trips will be part of the break in period but I look forward to really winding this up and letting it run. This will provide a lot of fun in the months and years to come! Are you ready to ride Tyla?