Welcome to another Tesla Tuesday!
During the Super Bowl this year, there were seven car commercials and six of them featured at least one electric vehicle. It's a giant land grab for anyone who wants to make a car. Here are some example stats: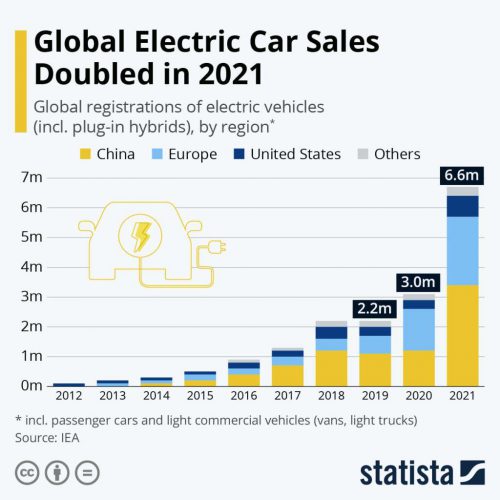 In the last quarter of 2021, electric vehicles accounted for 10% of all new car sales in California and the Model Y and Model 3 were both in the top 5. The Model Y almost claimed the top spot for the best selling vehicle of any kind on California! There were 61,599 Camry's sold and 60,394 Model Y's.
Only 4% of cars sold in the United States in 2021 were electric but other countries are way ahead of us:

Norway: 86.2%
Sweeden: 45.0%
Germany: 26.0%
UK: 18.6%
China: 15.0%

Anecdotally, it is fun watching the uptake of electric vehicles around the Seattle area. We spot about one Tesla per minute as we drive around, but a lot of other electric vehicle brands are popping up too. I regularly spot Ford Mustang Mach E, Porsche Taycan, Volkswagen ID.4, and Hyundai Ioniq electric cars along with the more common ones like the Nissan Leaf and various hybrids.
The federal goal is to have 50% of all new passenger cars and light truck sales in 2030 be electric. Five years ago that might have sounded crazy, but now you kind of start to wonder who's going to be willing to buy a new gas powered car 2030. Maybe 50% is a low estimate. At some point the value for gas engine cars is going to fall off a cliff so if you're buying one, you're resigning yourself to having no resale value and you'll be paying a premium for keeping it running.
But we're not there yet. Pretty much every car being sold today from any company is gas powered. Lots of things can happen to slow the uptake on electric vehicles too. One big sticking point is going to be the availability of battery material. Car companies can say they are bringing an EV to market, but actually producing them in quantity is another challenge. And even once you produce lots of them, there are plenty of challenges as Chevy is finding out with the Bolt. Chevy only sold 26 Bolts in the fourth quarter of 2021 because they were catching on fire and all of them recalled. Their sales total for the first quarter of 2022 is going to be 0 and they're hoping to restart production in 2022.
This transition is not going to be easy. We will see which car companies survive and which new ones appear. If you look at the stock market, the pure EV companies are clearly the ones that people believe will have value going forward. I've written before about Tesla's market cap being bigger than Ford, FM, Daimler, Fiat, Toyota, and VW combined, but since then, Rivian IPO'd and their market cap is roughly the same as most of those companies even though they've only shipped a couple thousand vehicles. Ford is even thinking about splitting off their EV business into a new company so that they aren't dragged down by the slow death of the gasoline cars. The market clearly thinks that electric vehicles are the future.
It's also worth noting that even if 50% of vehicles sold in 2030 might are electric, that doesn't mean that 50% of ALL vehicles on the road will be electric. There will be gas powered cars around for decades and there will always be reasons why someone specifically needs a gas powered vehicle. It will just get more expensive and more niche to drive one. If you have a need or a desire to stick with gas vehicles, there will always be cars for you to buy. Just don't expect that to be the norm.
As news about EVs rapidly gains momentum, it can feel like this is just a fad or the latest craze, but this is a movement that has been brewing for decades. Rather than being bump in the road, I think we're experiencing a tipping point in the market.