I've been burning through the Eureka (2006-2012) TV show episodes on Amazon Prime. I'm a Stargate fan and this was recommended to me as something with a similar vibe (and a lot of crossover actors.) Like Stargate, a lot of the filming happened in the Vancouver, BC area.
I was curious where the downtown Eureka scenes were filmed so over many episodes, I carefully looked for clues and searched and searched and searched around on Google Street View until I finally found a couple blocks on Wellington Ave in Chilliwack, BC which looked similar. (Shortly after that, I found this website which lists out all the filming locations for many different shows. Derp.) That's only a couple hours from our house and it seemed like it could be a fun family adventure day so I looked up a few other possible activities and we set off.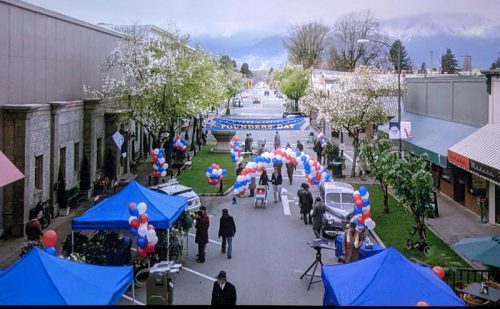 Our first stop was the filming location and even though it has been 10 years, I was happy to see how much it felt like walking through Eureka. It wasn't quite the same vibe I had walking through Radiator Springs at Disneyland, but it was similar.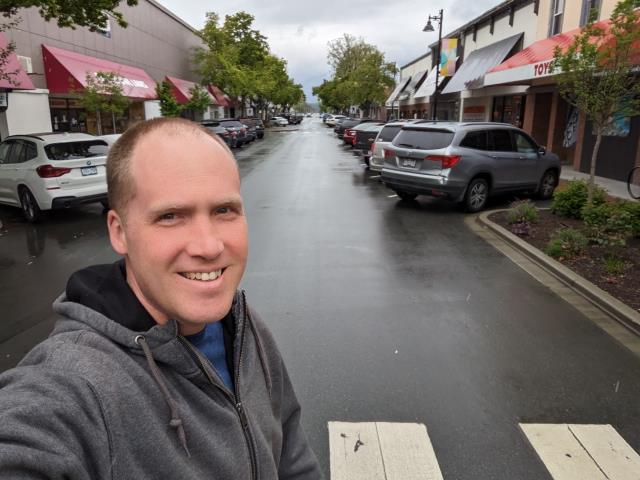 With my own nerdery satisfied, we set off to find some food at Cookies Grill. I don't remember how I stumbled on this place (Yelp?) but I suspected it would be a winner since Tyla and Elijah love breakfast and Cookies serves breakfast for lunch. It lived up to their expectations and they honestly talk about driving all the way back there to eat again some time.
While we were walking around Eureka, there were a few other people there looking in the shops, etc. One of the couples seemed like maybe they were Eureka fans too but that seemed unlikely and I wasn't about to start that weird conversation. When we drove ~10 minutes to get to Cookies Grill in a random strip mall area, we got out of the car and the same couple was in the parking lot! Weird things happen in Eureka.
It was still raining but we went for a hike anyway to see Bridal Veil Falls. The path is almost smooth enough for a wheelchair (except for a couple stairs) and it's only ~5-10 minutes long, but it's steep. The falls are beautiful though and the length of the tiny hike was about perfect for our day.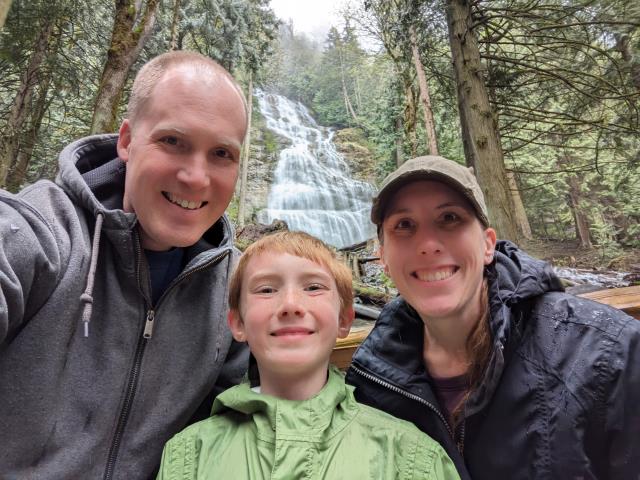 From there we stopped for ~10 minutes at the Chilliwack Supercharger on Luckakuck Road and then continued our journey via Lickman Road. As we giggled about the street names, we drove to Chilliwack River Valley Honey where we picked up a few jars of delicious honey. (Before we left home, I verified that we could get back across the border with it.)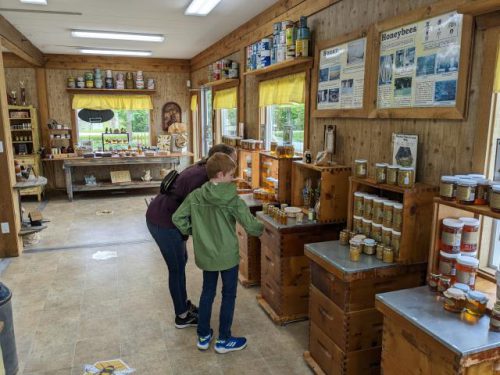 Our border entry into Canada had been quick and while the internet said the return trip would be quick, the line of about a dozen cars was moving very slowly. They were carefully inspecting everyone, searching a lot of cars, and even pulling some cars off to the side for additional inspections. As we approached the booth, I was prepared for a lot of questions, but apparently we are super boring and we were almost waved right on through.
Despite what the border guard must have thought of our story, we loved it! It was a lot of driving for one day, but Elijah had fun going to Canada for the first time that he can remember, and we all enjoyed the random sites. There were quite a few other attractions in Chilliwack that looked interesting (water parks, giant lakes/parks, disc golf, etc.) so who knows, maybe we'll be back!