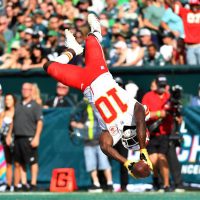 I didn't have a lot of hope going into the Seahawks games and after posting negative total offense well into the second-half, it looked like my pessimism was justified. But somehow they ended the first half tied with the 49ers at 7 and then the 49ers injury woes got even worse as Garoppolo left the game. Add that to the lack of anyone who had kicked a field goal in a game before and things were looking up for the Seahawks. Wilson and company were able to put some offense together and walk away with a win.
In our league, there are no undefeated teams remaining. The Scherschel power couple each knocked out Andy and Logan. Chelsea's win was especially impressive as her 8th place team not only beat the Andy's 1st place team but did it with 2.5x as many points! I helped Luke continue his extremely unlucky season as he sits winless in last place with an astronomically tough schedule so far. Next week he faces off against Tim so we'll see how the brothers fare. This chart shows the points scored against each team so you can see how unlucky Luke has been getting.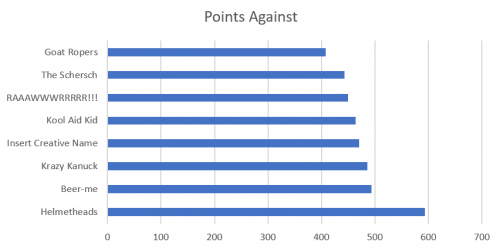 We also must take a minute to rain down boos upon Andy and Nick who both started players that were declared out on Friday. While game day scratches are inevitable, please be sure to check at least the day before to make sure nobody has been declared out.
On to the weekly awards…
| | | | |
| --- | --- | --- | --- |
| | This Week | This Season | All Time |
| Highest Team Score | Chelsea had 145.1 | Andy had 166.61 (Week 1) | Luke had 202.63 (2019) |
| Lowest Team Score | Andy had 68.06 | Was: Nick had 74.53 (Week 3) | Andy had 41.29 (2015) |
| Biggest Blowout | Chelsea beat Andy by 77.04 | Was: Logan beat Tyler by 66.47 (Week 2) | Luke beat Andy by 113.02 (2010) |
| Closest Win | Tim beat Logan by 12.34 | Ben beat Tim by 2.47 (Week 1) | Tyler beat Nick by 0.01 (2018) |
| Longest Active Winning Streak | Tim has a 2 game winning streak | Andy and Logan have 3 game winning streaks (Week 3) | Micah (2011) and Ben (2015) had 8 game winning streaks |
| Longest Active Losing Streak | Luke has a 4 game losing streak | Was: Luke and Chelsea have 3 game losing streaks (Week 3) | Kyle had a 14 game losing streak (2011) |
| Highest Scoring Player | Tyreek hill had 42.10 on Ben's bench. | Derrick Henry had 44.70 for Nick (Week 2) | Drew Brees had 60.54 on Tim's bench (2015) |
| Lowest winning score | Tim beat Logan with 105.4 | Was: Andy beat Nick with 94.7 (Week 3) | Tim beat Jim with 79.34 (2015) |
| Highest losing score | Luke lost with 113.81 | Luke lost to Nick with 134.59 (Week 2) | Tim lost to Luke with 169.11 (2019) |