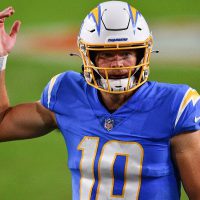 Russ is out for an undetermined amount of time (4-8 weeks?) because of a ruptured tendon in his hand. Geno Smith made an impressive start marching the team 98 yards down the field for a touch down, but we can't expect that with every drive. It's clear that the Seahawks were not going anywhere this year so I guess this is a season to tread water and see what can be improved without Wilson driving the bus.
Our league continues to provide a lot of entertainment. There are two big stories from this week.
In general I feel like point total is more important than win/loss record because scoring points is what wins over time, but Luke is certainly the exception so far. He's now 0-5 despite having 96% of the point total of first place. If we ranked by total points, he'd be third instead of 8. If we compare his "Points against" with first place Logan we see that Luke's opponents have scored 45% more than Logan's opponents! I don't have the data to prove this, but I'd be amazed if a team in our league has ever had this many points and been winless after week 5. Chelsea is next in line to see if Luke's streak will continue.
Going into Monday night's game, I was 13 points behind Nick. He had a RB (Jonathan Taylor) remaining and I had a TE (Mark Andrews) and a DEF (Baltimore) remaining. Taylor put up 30 points for Nick and at the start of the fourth quarter, Yahoo predicted that I had a 1% chance of winning. But before the end of the game, Andrews caught not one but two touchdown passes. That still wouldn't have been enough to catch up but the Ravens went for two on both TD's and both times Andrews caught the pass which was just enough to push me ahead by less than a total of 2 points. In poker they would call this sucking out on the river. #sorrynotsorry
Logan and Andy are both tied for first place and they are facing off next week. Andy is doing all of this with only the roster he drafted. He hasn't made any roster moves yet!
Power rankings are back too. Each week I'll show the top 4 teams according to my super secret formula (it's mostly based on points scored in previous weeks with an emphasis on the most recent weeks):
Ben
Luke
Nick ▲4
Logan
On to the weekly awards…
| | | | |
| --- | --- | --- | --- |
| | This Week | This Season | All Time |
| Highest Team Score | Tim had 155.42 | Andy had 166.61 (Week 1) | Luke had 202.63 (2019) |
| Lowest Team Score | Tyler had 89.37 | Andy had 68.06 (Week 4) | Andy had 41.29 (2015) |
| Biggest Blowout | Andy beat Tyler by 52.05 | Chelsea beat Andy by 77.04 (Week 3) | Luke beat Andy by 113.02 (2010) |
| Closest Win | Ben beat Nick by 1.96 | Was: Ben beat Tim by 2.47 (Week 1) | Tyler beat Nick by 0.01 (2018) |
| Longest Active Winning Streak | Tim has a 3 game winning streak | Andy and Logan have 3 game winning streaks (Week 3) | Micah (2011) and Ben (2015) had 8 game winning streaks |
| Longest Active Losing Streak | Luke has a 5 game losing streak | Luke had a 4 game losing streak (Week 4) | Kyle had a 14 game losing streak (2011) |
| Highest Scoring Player | Justin Herbert had 50.82 for Tim | Was: Derrick Henry had 44.70 for Nick (Week 2) | Drew Brees had 60.54 on Tim's bench (2015) |
| Lowest winning score | Ben won with 133.42 | Was: Andy beat Nick with 94.7 (Week 3) | Tim beat Jim with 79.34 (2015) |
| Highest losing score | Luke lost with 141.69 | Was: Luke lost to Nick with 134.59 (Week 2) | Tim lost to Luke with 169.11 (2019) |