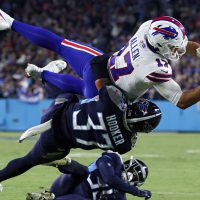 I didn't have much hope for the Seahawks without Russell Wilson or Chris Carson, but Geno Smith and Alex Daniels made a run for it.
In our league, Luke is no longer winless! He put up the second highest score in the league and it paid off with a victory. It's still early enough that I feel like he's going to have one of the playoff spots, but he has a long way to go. We had a battle for first place between Andy and Logan with Andy coming out on top. He set the highest score of the season (topping his previous record from week 1.)
There are a LOT of big name players on bye weeks coming up so please pay careful attention to your rosters. Nick had a couple empty spots on Sunday but was able to fill one before the game on Monday. Let's keep those rosters full please.
Power rankings:
Luke ▲1
Logan ▲ 2
Andy ▲ 4
Ben ▼ 3
On to the weekly awards…
| | | | |
| --- | --- | --- | --- |
| | This Week | This Season | All Time |
| Highest Team Score | Andy had 167.86 | Was: Andy had 166.61 (Week 1) | Luke had 202.63 (2019) |
| Lowest Team Score | Tim had 103.01 | Andy had 68.06 (Week 4) | Andy had 41.29 (2015) |
| Biggest Blowout | Nick beat Tim by 26.99 | Chelsea beat Andy by 77.04 (Week 3) | Luke beat Andy by 113.02 (2010) |
| Closest Win | Tyler beat Ben by 2.31 | Ben beat Nick by 1.96 (Week 5) | Tyler beat Nick by 0.01 (2018) |
| Longest Active Winning Streak | Andy has a 2 game winning streak | Andy and Logan have 3 game winning streaks (Week 3) | Micah (2011) and Ben (2015) had 8 game winning streaks |
| Longest Active Losing Streak | Chelsea has a 2 game losing streak | Luke had a 4 game losing streak (Week 4) | Kyle had a 14 game losing streak (2011) |
| Highest Scoring Player | Josh Allen had 34.72 for Chelsea | Justin Herbert had 50.82 for Tim (Week 5) | Drew Brees had 60.54 on Tim's bench (2015) |
| Lowest winning score | Nick won with 130.00 | Andy beat Nick with 94.7 (Week 3) | Tim beat Jim with 79.34 (2015) |
| Highest losing score | Logan lost with 143.14 | Was: Luke lost to Tim with Luke lost with 141.69 (Week 5) | Tim lost to Luke with 169.11 (2019) |