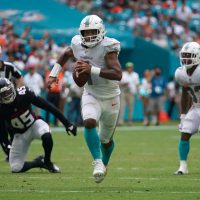 After seven weeks of the season, Logan, Andy and I are all tied at the top with 5-2 records. Nick Tyler and Tim aren't far behind, but Luke and Chelsea are really going to have to pour on the coals to make a run for it.
There weren't really any close games in our league this week. Logan came back to beat Luke on Monday night but he ended up winning by 19 points. I knocked off first place Andy (even though Mahomes gave me less than 8 points), Tyler beat Tim and Nick beat Chelsea.
Power rankings:
Logan ▲1
Nick ▲ 3
Luke ▼ 2
Ben
On to the weekly awards, where Luke picks up the "Highest losing score" again. The old record for the toughest season schedule was Tyler in 2018 where his opponents scored an average of 133.22. Luke's current season opponents are coming in at a whopping 146.35!
| | | | |
| --- | --- | --- | --- |
| | This Week | This Season | All Time |
| Highest Team Score | Nick had 150.67 | Andy had 167.86 (Week 6) | Luke had 202.63 (2019) |
| Lowest Team Score | Andy had 86.84 | Andy had 68.06 (Week 4) | Andy had 41.29 (2015) |
| Biggest Blowout | Nick beat Chelsea by 46.66. | Chelsea beat Andy by 77.04 (Week 3) | Luke beat Andy by 113.02 (2010) |
| Closest Win | Logan beat Luke by 19.37 | Ben beat Nick by 1.96 (Week 5) | Tyler beat Nick by 0.01 (2018) |
| Longest Active Winning Streak | Nick and Tyler have 2 game winning streaks | Andy and Logan had 3 game winning streaks (Week 3) | Micah (2011) and Ben (2015) had 8 game winning streaks |
| Longest Active Losing Streak | Chelsea has a 3 game losing streak | Luke had a 4 game losing streak (Week 4) | Kyle had a 14 game losing streak (2011) |
| Highest Scoring Player | Tua Tagovailoa had 34.54 for Tyler | Justin Herbert had 50.82 for Tim (Week 5) | Drew Brees had 60.54 on Tim's bench (2015) |
| Lowest winning score | Ben won with 125.37 | Andy beat Nick with 94.7 (Week 3) | Tim beat Jim with 79.34 (2015) |
| Highest losing score | Luke lost with 126.56 | Logan lost with 143.14 (Week 6) | Tim lost to Luke with 169.11 (2019) |