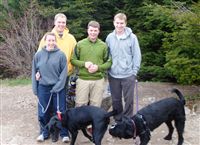 Mt. Si stares at me every time I leave my house and mocks me for never having been to the top. It's a 4 mile hike to the top that includes a 4000 foot ascent. I've put it off in the past because I felt like it was a bit out of my league, but this summer, it will happen. To that end, we put the date on the calendar (June 20) so we have something to train for. In reality, I think I could probably will my way to the top of Si right now, but it wouldn't be pretty. I'd rather get to the top and feel good about myself.
Last Saturday was the first hike of the season to start getting ready for Si. Tim, MattW, Tyla and I headed up Tiger with Oskar and Reiko leading the way. While I haven't checked the GPS data yet, I feel like we made decent time. I discovered that the lack of regular skiing this winter has left me in a lot worse shape than I thought. I think I'm going to need to supplement the training hikes with some exercise bike.
If the Mt. Si hike goes really well, I may look into finally making it up to Camp Muir. It is also 4 miles/4000 feet but it starts at 6000 feet so oxygen is a bit more hard to find. The end of the hike is also over a permanent snowfield which adds complexity.
There are five new photos from our hike tagged as Tiger Mountain.