It was a wild week, but 9 days was all it took to polish off the front yard. We had taken a break after finishing the back yard to recover and also because Tim was re-siding his house. Here's a rough breakdown of the front yard project:
Dad and I started on Friday the 19th by digging a trench under the sidewalk. We picked up the tractor, truck and trailer. Then we used the tractor to fill up the trailer, make a run to dump it, and then scraped off some more sod.
On Saturday, Don, Logan and Tim joined in and we made huge progress. The trailer made non-stop runs all day long getting rid of the sod and the dirt that was being scraped off with the tractor. While that was happening, three dump trucks arrived with the new dirt that was replacing the old dirt.
By the end of Sunday, all of the old dirt was gone and the new dirt was pretty much in place. We also rented a trencher and in just two hours, we had trenches for irrigation. It might seem silly to trench through new dirt, but we still had a couple more inches to go under the new dirt and it was almost like digging in concrete.
Tim and I spent Monday through Thursday evenings out in the yard plumbing for irrigation. It was a wet, soggy mess as we got over 2 inches of rain. I bought a hand pump to help clear out the trenches but there were big sections of the yard that were just completely saturated.
We took Friday off in hopes of letting it dry out just a little more. All I did was pick up a few more yards of dirt and left it sitting in the trailer for later.
Saturday we started by spreading the remaining dirt to really level everything out. 2600 square feet of sod was delivered, and, with the help of two guys Tim knows, we had it almost all in by 2pm. We returned the tractor, spread one more truck load of dirt, finished off the sod, and then tested out the irrigation.
I spent Sunday by myself cleaning up the yard, washing the truck, returning tools, etc.
It's incredible how much work got done in such a short amount of time. Here are some stats:
The front yard added up to 117 hours of labor (compared to 310 in the back yard.)
Each load from our house to the spot where we dumped the sod took about 75 minutes round trip
14 trips with the dump trailer to remove the old sod, and there was 3-4 yards in each load
53 yards of beautiful new "supreme mix" dirt added, including three 15-yard deliveries via dump truck
500 miles on Don's truck for this project
10.6mpg average for the truck while we were making the runs to dump the old sod
3.4 gallons of diesel used in the tractor over the many many hours that it was running
Because our scheduled was so compressed, I didn't stop to take as many photos or do fancy timelapse videos. Thankfully Tyla and Mom snapped a bunch of photos and one of my security cameras caught some of the action.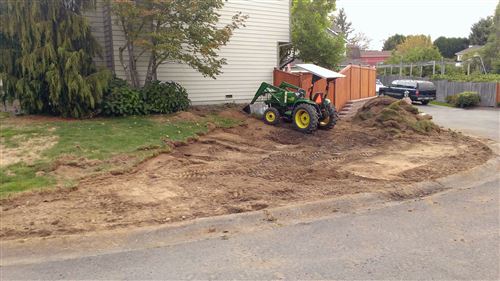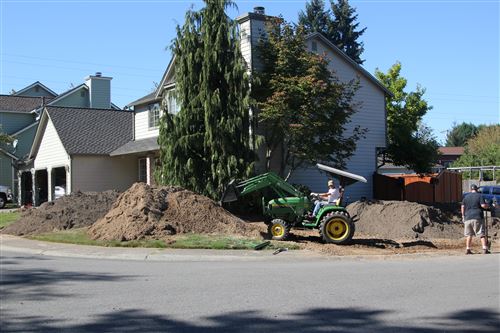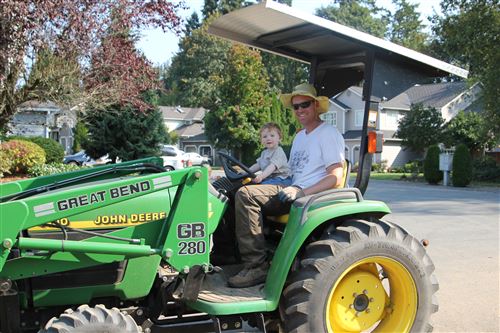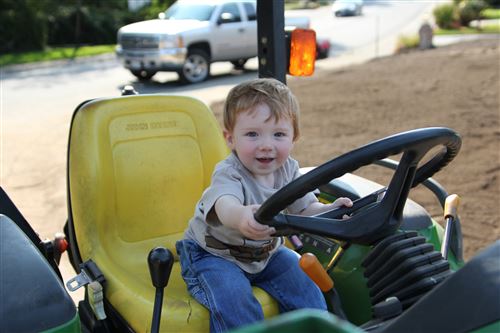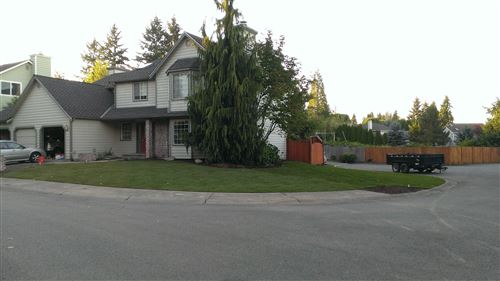 THANK YOU once again to all of the friends and family that helped out! We had exactly the right amount of help to get this done. And a huge special thank you to Tim. Without you, this project would never have been attempted. We couldn't have afforded to pay a contractor to do this, and I don't know nearly enough to attempt something like this on my own. I loved learning about all this stuff and it was awesome to spend so much time out in the yard working with you. Thanks for putting up with all of my questions, my stress, and my mistakes!