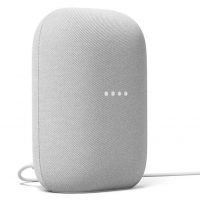 We have had an Amazon Echo in our kitchen/living room area for the last three years. It's used almost exclusively for playing music from Spotify and setting timers, but over the past months it has become more and more insistent on giving us ads and tips after completing a command. My family starts laughing every time it says "By the way, did you know" because I immediately yell "ALEXA! STOP!" There are settings you can change to make this less frequent and I've changed them all long ago but it's still super annoying. I finally had enough and I pulled the plug. I used the Amazon trade in program and got $30 back for it.
I ordered a Google Nest Audio on sale and happily swapped it in for the Echo. It's pretty similar functionally, but so far there are no annoying "by the way" style comments. Maybe they'll come some day, but beyond that, there are a few reasons why I prefer the Google device to the Amazon device:
I'm an Android user and I use Google reminders a LOT. I regularly talk to my phone and ask it to remind me to do something at a specific time. Now even if I don't have my phone handy, I can tell the Google speaker to do it and get the same behavior.
The Google speaker recognizes our voices so if Tyla tells it to set a reminder, it will only go to her account. If Elijah asks it to play a song, it will play it from his Spotify account instead of mine (which means that my music won't stop if I'm listening in another room.)
It's a Chromecast endpoint and that is our preferred way to cast audio and video around the house. Even if there isn't an obvious voice command to play something on the speaker, there's usually a Chromecast button that we can hit on our phone or laptop to play it.
There's a setting to tell the speaker which device to use for displaying video so we can talk to the speaker and have it play videos on our TV. That's not something we'll do a ton but sometimes it's handy to pause via voice commands.
We can add various Chromecast devices into a group and it will play back in sync across all the devices.
I've had a Google Mini out in the garage workshop for a couple years and I'm happy to have another one in the house, but mostly I'm happy to not hear "By the way" anymore.