Do you remember the big thing that happened in March 2020? It was HORRIBLE. Our vacation got canceled! (Also, there was a global pandemic.) We had a trip to Hawaii planned and up until a day or two before we left, we didn't know if we were going or not. The world decided for us and air travel was pretty much shut down. Our flights were canceled and eventually they decided to give us credit for them. Those credits were set to expire this spring so before Christmas, we somewhat randomly pointed to a calendar and rebooked figuring that either we'd cancel again and just forfeit our credits or things would get better and we'd go. Instead of the hotel/resort we had planned before, we booked a condo instead so that we could comfortably eat indoors even if COVID was raging. Days after we booked, Omicron hit but luckily for us, it peaked and by the time our trip rolled around, vaccinations were going well and states were rolling back mask mandates. We were able to take our trip during a very low risk time period just before the mask mandates ended and before the Safe Hawaii (vaccination or testing required) program ended. It was pretty much perfect timing! Ok, I think that's enough COVID backstory, let's get to the vacation!
Our direct flight landed on Oahu on Thursday afternoon. The day had started around 4am so Tyla and I were ready to find some food and crash in the condo, but Elijah didn't want to just SEE the beach, he wanted to swim! So we dug out his swimsuit and he got his first taste of swimming in the ocean, or at least in a sunny, warm ocean.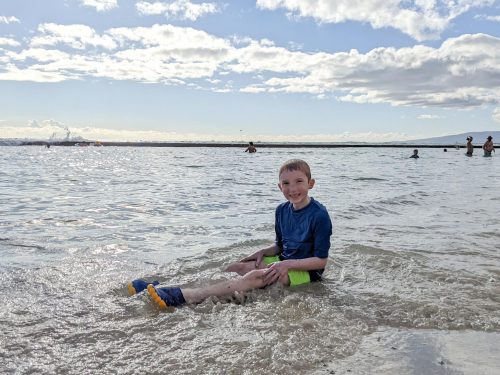 I won't give a day by day recap, but each day involved some combination of swimming at the ocean and swimming in the condo pool. The condo was about a block off the ocean so it was a good mix of price and convenience. It came stocked with a beach umbrella, beach chairs, sand toys, boogie boards, and lots of other beach goodies.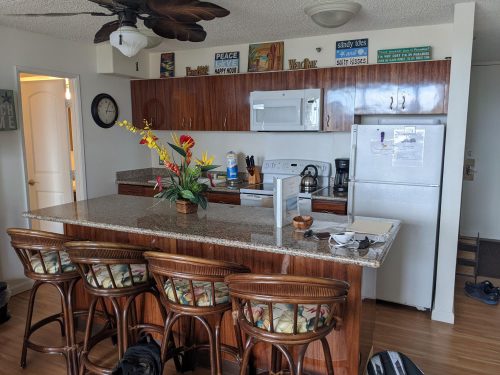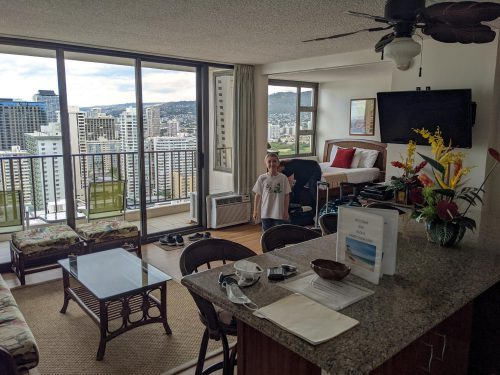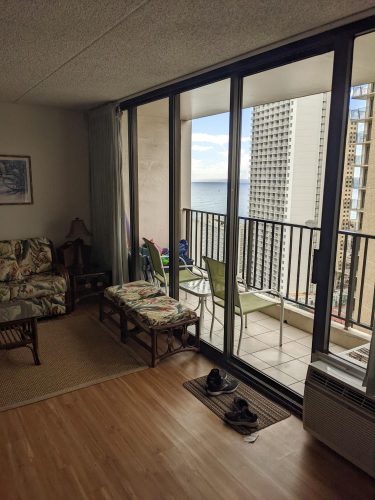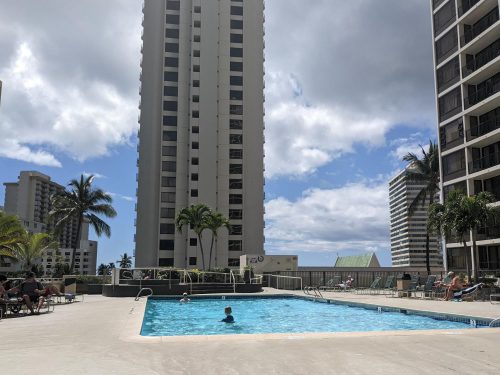 We purposely picked this condo because of its location so that we wouldn't need to rent a car, but a couple weeks before we left, I found a great deal through work. The condo came with a free parking spot (amazing!) so we pivoted and rented the car. That gave us a little extra mobility which helped immediately on our first night because I was able to go to Safeway and stock up on breakfast, lunch, and snack foods. For dinner, we tried various food trucks (Munchwagon and Five Star Poke were our favorites) as well as takeout from some restaurants.
Our condo had a good view of Diamond Head Crater and we since we were still on Seattle time, we decided to get there right around sunrise (6:30am) and hike up before it got hot. Silly us. The lot opens at 6:00am and the lot fills up at 6:00am. The lot attendant suggested that we come back around 7:30-8:00 when the first batch of hikers come back down, so we drove around randomly until then. We randomly ended up at Kawaikui Beach Park and walked down to the beach just as the sun was peaking over a hill! The parking lot had quite a few cars but most of them must have been surfers because there were only a handful of people along the beach.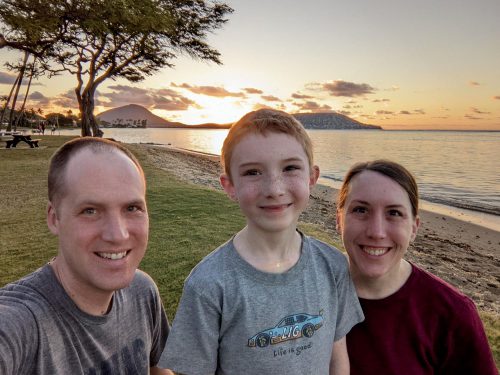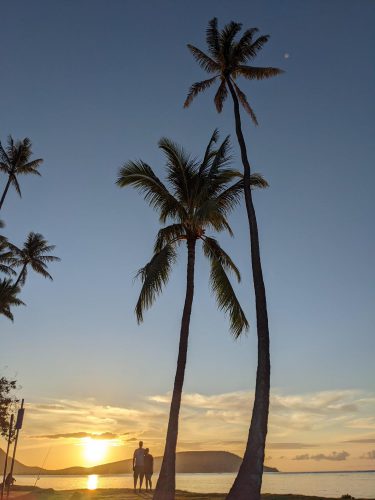 It was a beautiful quiet spot to hang out until we headed back to Diamond Head. Thankfully the tip was correct and we got a spot. The hike up wasn't too bad physically, but it was packed. I know I say some trails around here are busy but this was solid people the whole way. We didn't linger long at the top viewpoints because it was just a mass of hot, sweaty people. But despite all that, we were all glad that we did it and Elijah was really proud of himself for making it to the top. When we got back down, we hit the obligatory treat truck to get a fresh fruit bowl served in half a pineapple and a shaved ice. On our way back, we drove around a bit looking for some place to buy fresh, local fruit. We ended up at Whole Foods which had a decent selection, but you have to be careful to actually find stuff grown in Hawaii and not imported from Mexico or South America.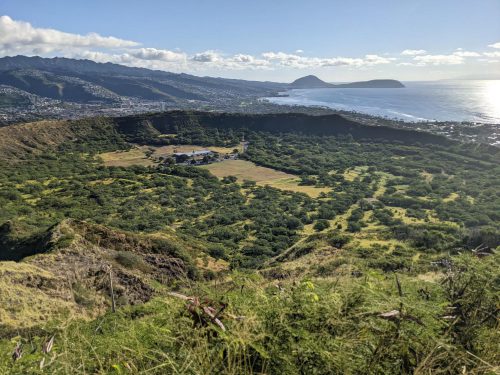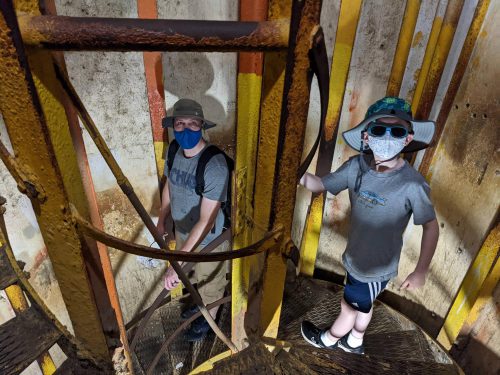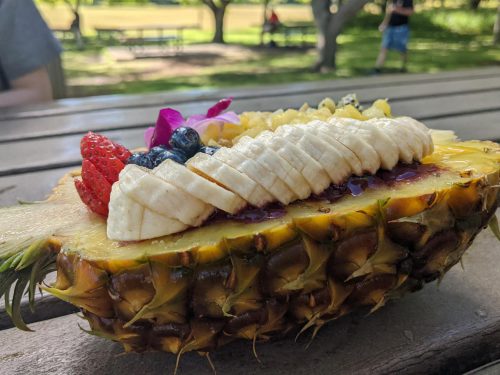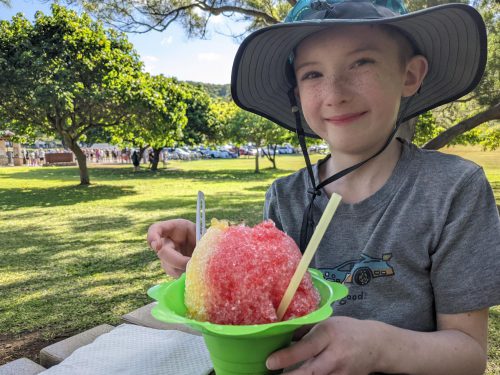 Another day, we walked over to the Honolulu Zoo. It's not huge, but it was just about the perfect size. As we finished seeing most of the exhibits, we were all ready to get out of the sun for a bit. The animals were fun to see and Elijah learned about a new species of penguin, but my favorite part might have been the amazing trees!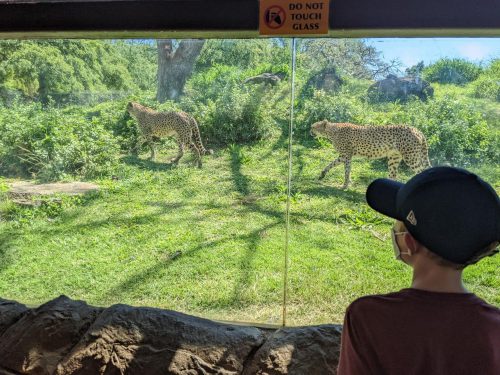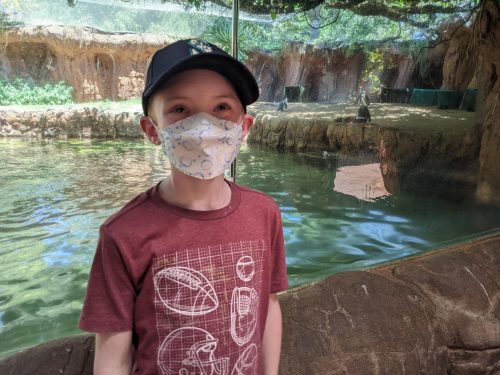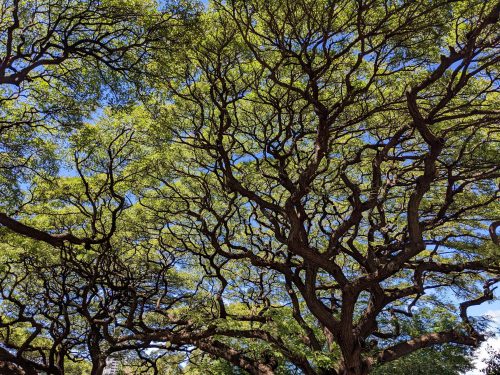 Other activities included a visit to Leonard's bakery, boogie boarding in some waves, finding our annual ornament at the Waikiki Christmas Store, geocaching, a second trip to Kawaikui Beach Park, and checking out the Koi pond in the lobby. Our condo was on the 29th floor and our balcony had a nice view of the sunset. I suspect that in a couple weeks, the sunset view would be blocked behind another building, but the timing worked out well for us.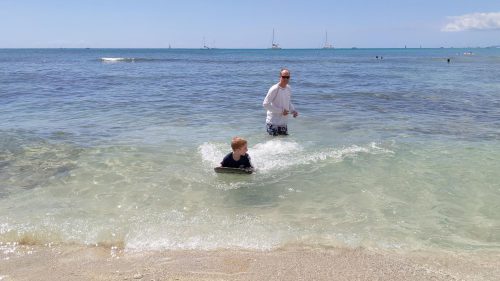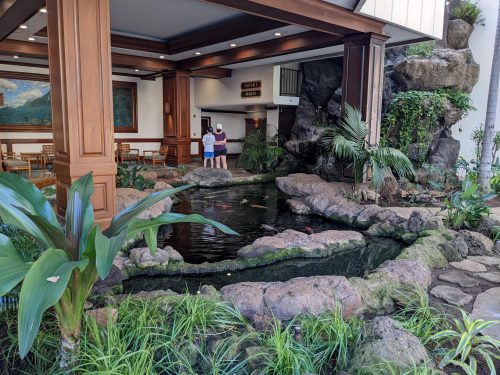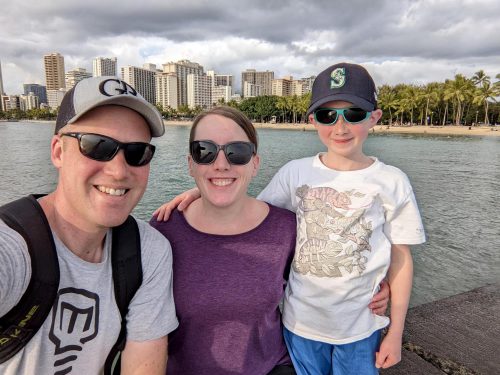 We had four complete days there with a travel day on each end. On our final day, we got packed up and had an extra hour or so to kill so we drove to Pearl Harbor Nation Memorial. It has free parking and free entry. Thankfully we got lucky and found a parking spot so we were able to walk around the grounds. The boat ride to the Arizona is free too but you have to book weeks in advance. I knew that going in and our plan was to just see the area but skip all the various museums and things that required tickets and entry fees. While I'd love to spend more time exploring the museums, I'm very thankful that we got to stop there so I can have a memory of that area. The historical accounts feel even more real when you can remember standing in the spot.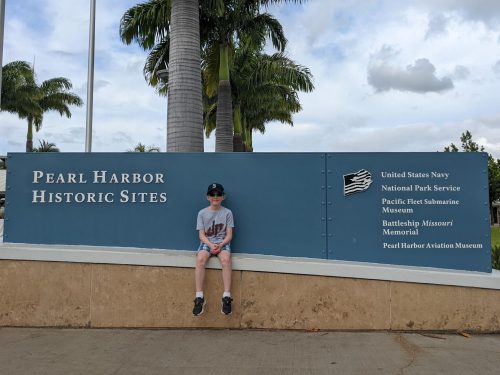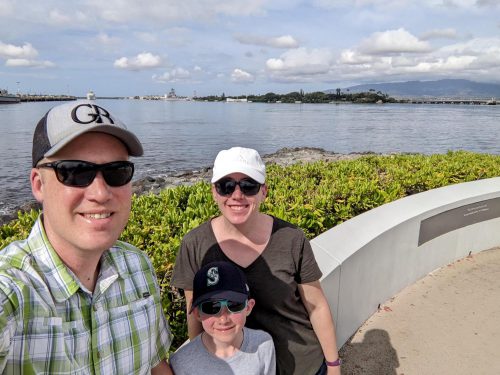 Our flights both ways were smooth and uneventful. We were tired when we got home but we were so thankful to have had the opportunity to take the trip and to get there and back safely and in good health. Aloha!