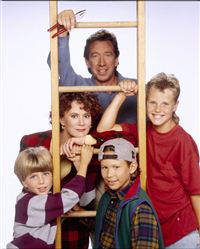 I'm at a weird point in our home ownership: my todo list is getting short! When we moved in, it seemed like no matter how hard I worked, I kept finding more and more things that need to be done. Here's a list of the bigger projects that have been completed since we bought the house last October:
Paint 50% of the interior
Carpet including sealer on floorboards (contracted)
Pressure Regulator Valve (contracted)
Remove all garage shelves. Build new shelves and workbench.
Replace water heater with tankless water heater (contracted)
Replace furnace and add air conditioning (contracted)
Shelf liner in every cabinet
Theater room: projector shelf, painted room, add dimmer light switch for accent lighting, run speaker and video cables in the walls, mount screen
Add laundry room shelves
New exterior light timer
Vinyl floor for master bathroom
Install new motion sensor light in back yard
Replace all tank parks and lines in all three toilets
Remove root growing under driveway
Tie tall pine trees together in back yard so they survive heavy snow
Replace motion light on side of house
Fix low voltage yard lighting
Reinforce fence along west side of house
Change angle valves and add arrestors to all water connections
Replace all window screens
Add underground drain for sump pump and down spout
Add soffit vents for attic insulation (contracted)
Replace all outlets and switches
There's lots more but those are the bigger projects. Whew! It makes me tired just thinking about it all. We still have things that we want to do but I feel like we've moved off of required list into the wish list. Now it's more of a decision of whether or not it's worth the investment.