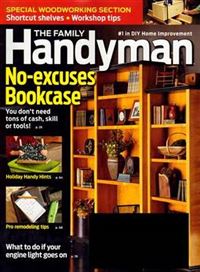 We live in a high tech county. Facebook, Amazon, Google and Microsoft all have offices here and those are just a few of the names you'd recognize. It apparently trickles down into our library system. The more I look at the library, the more amazed I am!
A couple years ago, they enabled Kindle ebook checkouts. I've been a heavy user of that and it has worked fantastically well. We were also able to drop our Consumer Reports website subscription because the library gives us that for free. Tonight I was contemplating subscribing to a magazine when I decided to browse through the library. It turns out that they offer free access to a bunch of magazines through Zinio! (Zinio is an online digital magazine distributor.) Tyla is sitting on the couch laughing at me because I'm so excited about this.
The moral of the story is that if you haven't been to your library in a while, be sure to check out what services they offer. You might be surprised!
P.S. The magazine I was looking for is called Family Handyman. I was given a couple free issues of the magazine and was very impressed. They're full of great quick tips and project plans. Every issue I read gave me some good ideas. I'm pretty excited to get it for free through the library. I also signed up to receive Skiing, Popular Science, and Mental Floss. Who knows if I'll have time to read them all, but who cares, it's free!
P.P.S. "Free" in the context of this post of course means "you're already paying for it with your taxes so you might as well make use of it."