I've seen the car museum off to the north side of I-5 in Tacoma many times, but I've never been inside… until recently. When my parents came for a visit, we decided to check it out. A review on the internet said that a non-car geek could make it through in about two hours. I couldn't understand how that would be possible. The place doesn't look that big.
As we walked around, we saw signs that said Harold LeMay owned a refuse company in Tacoma and built up one of the largest private car collections in the world. And while there were a lot of cool cars in sight, it sure didn't seem that large. But then we turned the corner, went down the ramp, and I caught sight of a building map. There are four floors and each one is packed full of cars! If you follow the arrows, you'll wind your way all the way to the bottom and then work your way back up to the top.
We spent too much time on the way down and had to walk up a bit quicker than we would have liked since we were on a schedule, but wow, this place was huge! There were so many cars to look at. It kept our family easily entertained for a couple hours, and I think we could have spent a bit more time there.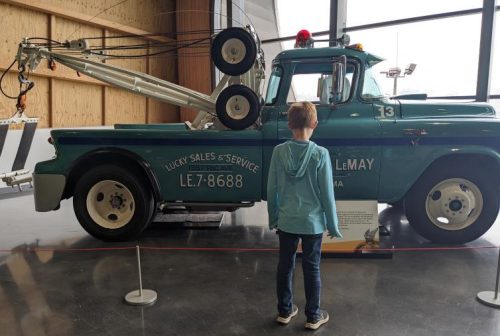 Home