The ordering period is now complete. Thank you to everyone who placed an order!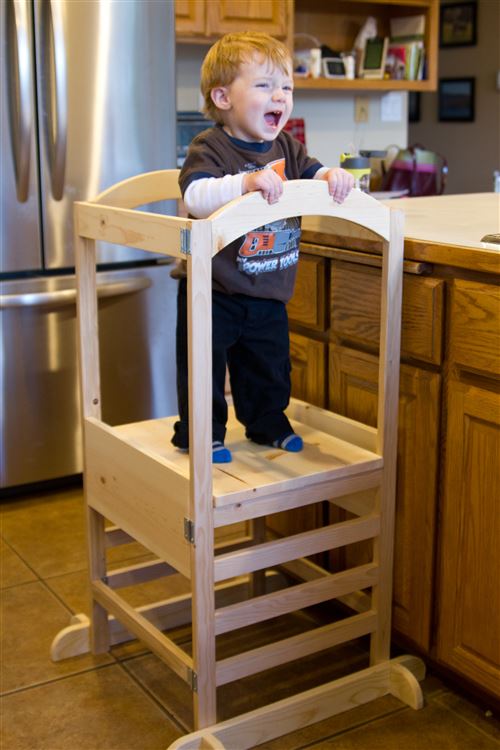 Platform adjusts securely and easily within seconds to heights of 7", 11", 15" and 19"
The overall tower is 18″ square and 40″ tall (to the top of the arches.)
Edges are rounded and everything is sanded smooth to help keep kids safe as they climb in the tower
Built from beautiful unfinished pine boards ready for you to paint and/or polyurethane
Sturdy base helps to prevent tip-overs
This is a onetime offer! Orders must be placed by 10/31/2014. Payment is required up front.
Orders will be filled on a first come, first served basis.
Two models are available. For the model with hinges, you can pull the platform out and fold the tower flat for storage. The model without hinges still has the adjustable platform but it cannot be folded flat.

Permanent, non-hinged version – $80
Fold flat, hinged version – $120

To order or ask questions, please send an email to

[email protected]

or contact Tyla.
You will be contacted when your tower is available for pick up at our home in Woodinville. No shipping.
If you want to view the plans to see specific dimensions or even build one yourself, they are available for free online here: Ana White's Little Helper Tower.
Note: Adorable child not included. You must provide your own.
Frequently Asked Questions
If I pay extra, will you stain/paint it for me if I pay you? Sorry, no. Finishing all these would take more time than I'm willing to commit to. You can use them unfinished. It just means that spills might leave a stain.
Can you make a modification to the design if I pay you? Again, sorry, but no. I'm all set up to crank these out according to the existing plans and making changes will add quite a bit of time.