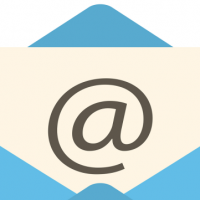 I've owned the studio711.com domain for a long time. For most of the time it has been registered with GoDaddy and with one of their email offers, I was able to send and receive email from any address that ended with "@studio711.com". I got in the habit of creating a unique email address for every site because I could see who was selling my info and/or easily block any use of my address.
That was handy and worked fine for years, but it turns out that running a mail server like that also creates a popular place for spammers. Other mail providers would end up blocking various GoDaddy mail servers periodically and I would get emails returned to me (sometimes after 8-12 hours.) It was mostly a background annoyance but finally I decided to do something about it.
A lot of people have the Microsoft 365 Family subscription these days. The main thing it provides is a bunch of installs of Microsoft office on various computers and the subscription can be shared with five members of your household. Reading the list of things that come with the subscription, I found out that you can get custom email hosting if your domain is hosted on GoDaddy.
If you're not attempting to do the same change, then this post probably won't be super interesting to you, but do know that if you have that subscription, then you could have your own custom email address for the cost of a domain registration at GoDaddy ($20/year.)
The catch for me was that I would only be able to make one email address per account that the subscription was shared with. I spent many evenings going through my LastPass vault looking for random email addresses and converting them to a common account.
Making the change was nerve-wracking because if I had missed any random email addresses, I'd be oblivious to any failed messages sent to them. But after checking and double checking, I pulled the trigger… and immediately hit a failure. While GoDaddy does host my domain, I use CloudFlare for the nameservers because they give me some additional features and make it easier to do SSL on my website. I resolved this by temporarily switching my nameservers back to GoDaddy and doing the Outlook onboarding steps. I looked at what DNS changes Outlook made on GoDaddy and then switched back to CloudFlare and added those DNS entries back in. Thankfully, that worked!
The next hiccup was that I couldn't create the specific aliases that I wanted. I'd hit the button to verify, and it would just fail silently with no error message. I finally realized that I had previously set up those email addresses as "send from" aliases. Once I removed them, I was able to create the email aliases. I set up a couple new Microsoft accounts, shared my Microsoft 365 subscription with them, and created the remaining email aliases that I need.
So now I should be fully transferred over to having my email hosted on Outlook.com and if I need to switch email providers again in the future, it will be a lot easier because I won't have ~600 different email addresses to unify first!