As I've mentioned many times before, I don't have a huge garage. I need to spin my bike sideways to get it to fit in there with my car. So this weekend I built a motorcycle dolly.
It's not too complicated. It's a platform on wheels. Unfortunately they cost $400+ if you buy them online or in a store. I had a bunch of leftover wood from the entertainment center that I built for the theater project. The basic design is two large pieces of 3/4″ MDF laid end to end with about four smaller pieces screwed in underneath for some reinforcement and to join the two top pieces together. I also had some 2×4's that were ripped in half lengthwise and I placed those along the bottom for extra support. The whole platform sits on six strategically mounted 2.5″ caster wheels. Three of the wheels are placed under the three contact points of the bike (two wheels and a kickstand.) Each wheel is held on by four 5/16″ hex bolts. To get up on the platform, I'm just using another piece of 3/4″ MDF as a ramp. It's not pretty, but guess what, it works and it's surprisingly solid. Once the rainy season starts back up, I'll be able to shove the bike in the back of the garage and keep my car out of the rain.
That's another project checked off the list.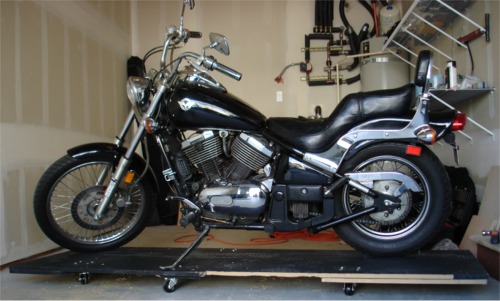 (The picture is a bit deceptive with those strips of unpainted wood, but you get the basic idea. Motorcyle on wood on wheels.)
[UPDATE] I gave this dolly away and upgraded to the Park-N-Move. Check out my post showing a video of the new bike with the new dolly.