Welcome to another Tesla Tuesday!
We took the Tesla on our trip to the Sunrise Visitor Center at Mt. Rainier (200 miles round trip). Before the trip, I had used abetterrouteplanner.com to check how the charging would work out. I've done a bit of work on that site to tweak the settings to pretty accurately match our real-world behavior and it said that if I left home with 90% charge, we'd hit the visitor center with 45% and we'd get back home with a comfortable 24%. I didn't think much more about it
When we got in our car to leave, I punched the route into the car and it said that I would get to Sunrise with only 28% charge but then we'd get home with 10%. I knew that we had to gain a lot of elevation going up to 6400 feet at the visitor center, but those numbers seemed wild and since I've had experience with those estimates being pretty far off in the mountains, I was a bit nervous. But we went for it anyway.
My battery concerns were further fanned by ~30mph headwinds once we reached Enumclaw. That sucks energy too, but how much? The car was still confident that we'd make it back home fine, and I knew there were enough superchargers along the way to use as a fallback if needed. In the end,
Sure enough, the climb up to the visitor center did take a lot of battery, but not nearly as much as the car had originally estimated. We arrived with 44% battery remaining, only 1% off from what abetterrouteplanner.com had estimated! I guess if the Tesla estimate had to be off, I would prefer for it to be pessimistic like this, but that's so far off that it feels unhelpful. (Note that the trip shown in the image is only the distance from Enumclaw to Sunrise because we had a bathroom stop.)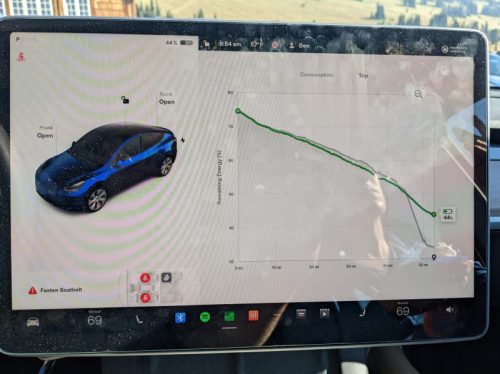 I'll have a separate post about the hike, but after the hike, we headed back down the mountain. In a normal car, the best you can hope for is that your car smartly uses engine braking to generate enough power to run the AC, radio, lights, etc and you use no gas when you go down the mountain. In an EV, the story is even better. Not only is it running all of those things for free, but it's also storing up all the extra energy that it doesn't need right away. On the 16 miles down from Sunrise back to Hwy 410, we charged back up to 47%. We then proceeded to use that extra energy to drive an additional ~30 miles before we were back at 43% charge. So yes, we used more battery going up the mountain, but then we drove for 50 miles from the top for free!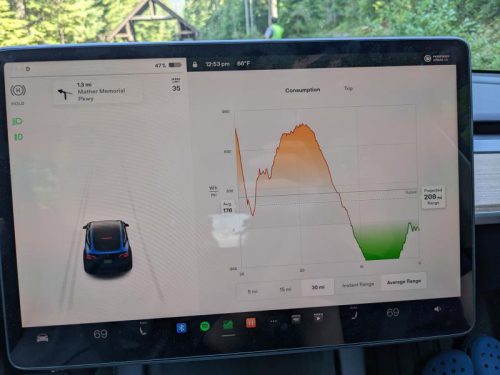 At the end of the day, we averaged 227 Wh/mi for the trip. We average 250-265 on a normal long trip so I don't know if the lower usage on this was due to something with the mountain, changing winds, or the fact that most of the roads on this route were 50mph speed limits instead of 60-70 on the highway.
I'm continuing to learn more about what to expect from the car, and each time we do a trip like this, it makes me more and more comfortable exploring the limits of our range.