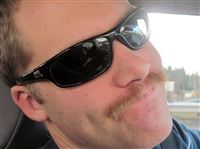 It has been six years since the last time I grew a mustache for Movember. Tyla just loved it so much that I feel bad that I haven't done it again for her to enjoy. (I'm not sure the full weight of that sarcasm can be communicated in plain text.) Plus, I think Elijah would find it amusing to see me with more than a little bit of stubble when I don't shave for a while. So I'm putting the call out now: who's with me for another Movember? Remember that the overall point of this is to raise awareness and money for men's health so it's for a good cause. In addition to growing that mo', why not throw a donate a couple bucks too?
Here's what I propose:
Leave a comment and let everyone know you're joining in.
You're welcome to get a running start on your mustache. Feel free to grow a full beard and start whenever you want.
Shave off that beard and let that mustache shine in all it's glory during Thanksgiving week. I'll probably go to work with it at least one day.
Send me a photo of your beautiful mustache and I'll include it in a post here on my site.
Go forth and grow that mo!