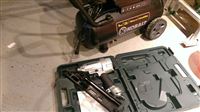 I've wanted an air compressor for a long time, but I just couldn't justify the cost. Until now. Part of this backyard project is building a fence and while, yes, I could build it without a nailgun, it would move along MUCH faster with one. I also wanted to pick up a little big bigger than average air compressor in hopes of being able to blow out my own irrigation lines (albeit much more slowly than the pros do it.)
To that end, I picked up an 8 gallon air compressor from Lowes. It's nothing fancy but it should get the job done, at least for the construction part. It remains to be seen how long it will take to blow out my lines with this. After checking rental prices for nail guns from Home Depot, I decided I could get the exact same Hitachi model for about the price of 4-5 days worth of rental. Done! The last piece of the puzzle was a 50 ft retractable air hose.
Put them all together and I'm ready to build a fence! I look forward to picking up a smaller brad nailer for my woodworking too.