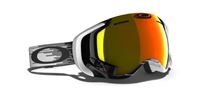 If you want the ultimate ski goggle, your search starts and ends with the Oakley Airwave 1.5 ski goggles. Oakley took one of the top ski goggle lines in the world and added Wi-Fi, GPS, Bluetooth, and a bunch of sensors which all feed to a heads up display inside the goggles. Version 1 was introduced last fall and this year they've included some upgrades like an upgraded graphics processor and better battery life.
So what can you do with all this tech strapped onto your face? These goggles will track your speed, airtime in jumps, total vertical feet skied, and show you where your friends are (if they're using the goggles too or running an app on their phones). All of this is presented via the heads up display. The goggles can also connect to your smartphone to control your music, receive text messages, and a lot more. As you probably guessed, these aren't cheap. MSRP is $650, but when you consider that the Google Glass beta kits are going for $1500, this is a steal.
It all sounds pretty incredible, but you have to wonder how it works in real life. Is it safe to have a display like that always at the ready even as you're skiing down the hill? Oakley has offered to let me demo these later in the year so I can give you a firsthand review! We've tentatively agreed on a January test so stay tuned.