On Sunday, I joined up with a big group of mostly Microsoft employees for a ride around Mt. Rainier. We had 29 bikes and I covered about 340 miles in 10 hours. It was my first ride over 150 miles and my first time riding with more than 3 people. Needless to say it was quite the adventure.
Although my derriere would vehemently disagree, I had a fantastic time. It was fun to be a part of a ride that big, and the views were stellar. Photos have been posted to the Washington album and I expect more to be posted on the Jeff Henshaw's site. He was the ride coordinator, and yes, I thought his named sounded familiar too. This is the same group of guys I posted about back in March.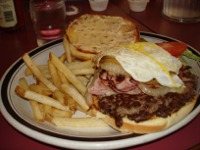 So why do I have a photo of a burger on a post about a motorcycle ride? That's no ordinary burger. That's a Logger Burger from a restaurant in Packwood, WA. It had 1/2 pound of beef, ham, onions, eggs, lettuce, tomato, and thousand island dressing. I caught some flack for photographing my burger. If they'd known me a little better they would have known that I've photographed more than a few burgers in my day. I was a bit unsure how the egg would fit into the mix but it was outstanding. I maybe have to attempt it here at the house. I'm still in search of a burger that matches up to our Big Boy Burgers, but this one gave it a run for it's money.
A big thanks for Jeff for putting this together. It might take me a day or two to recover, but it's definitely something I'd like to do again.
[UPDATE] Jeff has put up a post about the ride and a link to some more pictures.